Ashun Sound Machines announces flagship synthesizer keyboard, the HYDRASYNTH DELUXE with Polyphonic Aftertouch
LOS ANGELES and HONG KONG /Music Industry Newswire/ — Ashun Sound Machines (ASM) has announced their latest flagship synthesizer keyboard, the HYDRASYNTH DELUXE, offering a dual sound engine setup and the largest ASM PolyTouch polyphonic aftertouch keybed to date. The user interface is designed with the utmost attention to detail and offers a rapid workflow. Each of the two sound engines features 3 Oscillators, dual Wave Mutators and 2 filters, that can be configured in series or parallel. Both of the sound engines has its own separate balanced analog audio outputs. The tone generating capabilities are simply unmatched.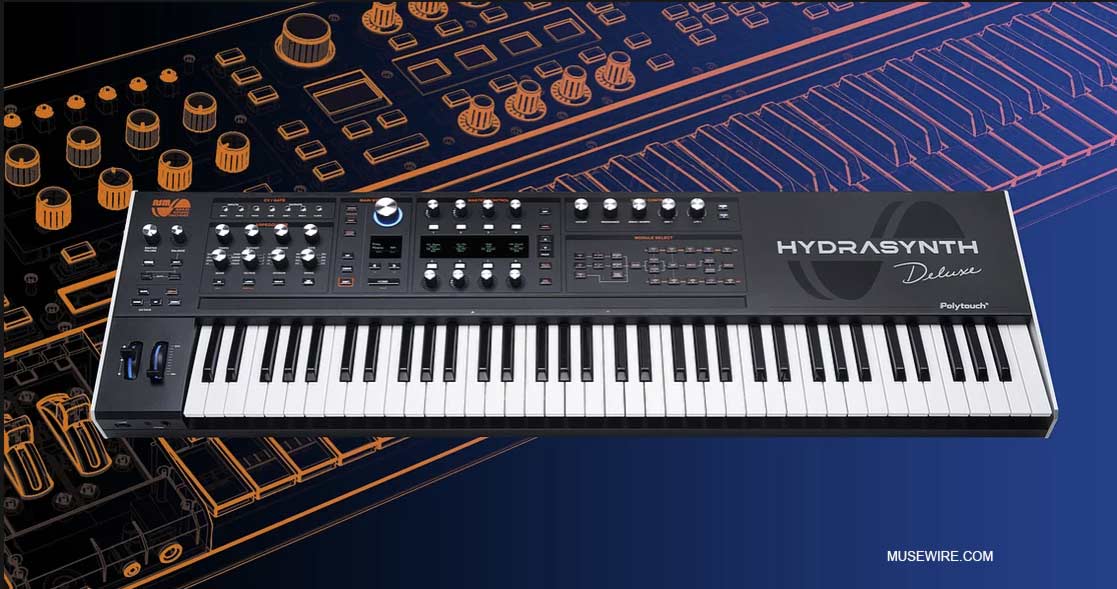 The HYDRASYNTH DELUXE has ASM's proprietary 73-note Polytouch keybed that offers polyphonic aftertouch over each note, giving you the type of expressive control found only in certain vintage synths. Add to this a 4 octave ribbon controller and ergonomically designed pitch and mod wheels and you have expression and control that is not equaled in any other hardware synthesizer on the market.
According to ASM CEO Glen Darcey, "Our goal at ASM is to create premium- quality, fantastic-sounding, extremely-playable instruments providing musicians with the affordable tools they need to express themselves musically. Our team has many years of experience with electronic music products, both on a personal and professional level — from playing them to designing them. Our unique partnership with Medeli allows us to realize this goal."
Pricing is an amazing $1799US, and most U.S. authorized music dealers are now taking pre-orders for expected Nov. 2021 shipping date.
SOUND ENGINE:
16 Voice Advanced Wavetable synthesis
2 Wavemorphing Oscillators
219 single cycle waveforms

User wavetables – 8 user selectable 'wavelist' per osc to build user wavetables

Every osc and patch can have its own user wavetable

WaveScan parameter for modulating through wavetables.

Keytracking – 0-200%

+/- 3 octave tuning range
1 fixed Wave OSC
219 single cycle waveforms

+/- 3 octave tuning range

Keytracking – 0-200%
Dual Mutators per oscillator
FM – Linear FM

Selectable Modulator source

Built in Sine & Triangle, OSC1, OSC2, OSC3, Mutators A, B, C, D, Noise gen, Ring Mod, External Mod 1&2 input.

WaveStack – Generates 5 detuned waves from input source. Detune amount.

Pulse Width Mod – Adjust pulse width of ALL waveforms.

PWSqueeze – Compresses the center section of the waveform. Differnnt type of PWM

PW-ASM – 8 User adjustable wave squeeze/stretch points.

Hard Sync – gives that classic sync sweep sound.

Selectable Sync input source.

Harmonic Sweep – will scan through the harmonics of the incoming sound.

PhazDiff – creates a new sound by combining phase shifting and summing techniques.

Dry/Wet mix to blend the original OSC source.
Noise Generator
White, Pink, Brown, Red, Blue, Violet, Grey noise sources
Ring modulator
Selectable input sources

OSC1, OSC2, OSC3, Noise, All Mutator outputs, External Mod ½ in.

Depth control
Sound source mixer
Mix the following sources – OSC1, OSC2, OSC3, Noise, and Ring Mod.

Panning for each source

Filter routing mix

Solos for each source (solo status is saved in the patch)
Two Filters
Series or parallel routing

Filter 1

12 & 24db modern ladder (compensated)

12 & 24db vintage ladder (uncompensated)

Threeler HP, LP

MS20 HP, LP

Low Pass Gate

STN LP, BP, HP

1 pole LP

8 pole LP

Vocal filter

Multiple vowel order parameter

Formant parameter

Filter 2

Continuously Variable Low pass > Band pass > High pass

Continuously Variable Low pass > Notch > High pass (Oberheim SEM style)
Learn more at: https://www.ashunsoundmachines.com/hydrasynth-deluxe
INTRO VIDEO (YOUTUBE):
AUDIO DEMOS (SOUNDCLOUD):
###
This version of news is Copr. © 2021 Christopher Simmons – musewire.com – all rights reserved.