ASCAP Announces U.S. Licensing Agreement With Spotify
NEW YORK, N.Y. (MuseWire) – ASCAP (American Society of Composers, Authors and Publishers) and Spotify have reached an agreement for the Spotify digital streaming music service, launched on July 14 in the US, to license the public performance of over 8.5 million musical works in the ASCAP repertory. Under the Agreement, Spotify is licensed to stream the works of over 415,000 songwriter, composer and music publisher members of ASCAP.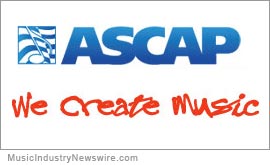 The Agreement covers ASCAP member performances in the U.S. by Spotify's multi-tiered service, including free, ad-supported streaming and its subscription-based products. The agreement runs through 2013. As part of the agreement, ASCAP and Spotify will utilize a Digital Data Exchange (DDEX) standard for music use reporting. DDEX is an industry-wide consortium whose aim is the creation and adoption of standards for highly-efficient content and metadata exchanges between partners in the digital music supply chain. ASCAP has been a Charter member of DDEX since its founding in 2006.
ASCAP CEO John LoFrumento commented: "ASCAP is delighted to have entered into an agreement with Spotify that is consistent with our commitment to negotiating fair payment for the public performance of our members' music. Spotify understood the benefits of obtaining an ASCAP blanket license in advance of their much-anticipated launch in the U.S., creating a healthy environment for the growth of their business while recognizing that music creators should be paid fairly for their work."
ASCAP is the global leader in collective music licensing, continuously pioneering new license agreements to accommodate the rapidly evolving digital music/entertainment marketplace. ASCAP licenses thousands of new and established services, ranging from start-ups to the biggest players on the Internet and mobile networks, as part of its mission to obtain fair compensation for more than 415,000 songwriter, composer and music publisher members. ASCAP is the first U.S. performing rights organization to have distributed royalties for performances on the Internet.
Disclosure: MuseWire editor Christopher Simmons who posted this news announcement is a member of ASCAP.