Arturia's KeyLab 88, its new 88 key flagship virtual instrument keyboard controller now shipping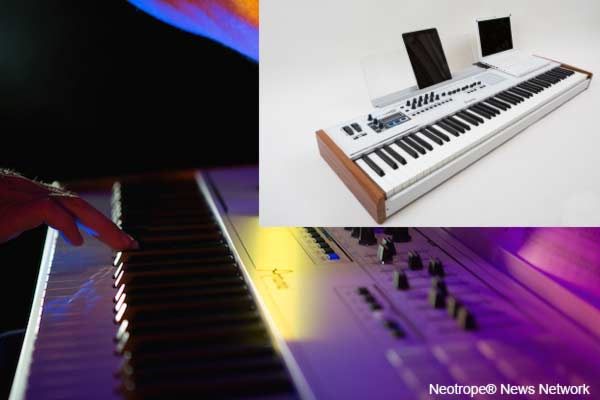 Arturia today announced availability of its new KeyLab 88 — its top-of-the-range, professional-grade, 88-note hammer-action hybrid MIDI keyboard controller that comes complete with Arturia's acclaimed Analog Lab software synthesizer solution and more besides — as of February 24, 2015.
Since first turning heads and tempting ivory-tinkling types when making its debut at Musikmesse 2014 in Frankfurt, Germany, KeyLab 88 is what musicians the world over have been waiting for — from virtuosic performance to tightly integrated software control, its appeal is far reaching. Just like its namesake 88-note keyboard.
Thanks to the top-quality, hammer-action Fatar keybed with aftertouch, professional keyboard players will feel right at home here. Clearly, KeyLab 88 is the ideal companion for demanding piano playing — all the more so since the first 3,000 units shipped come complete with two superb-sounding virtual instruments.
In the first instance, Grand Piano Model D from fellow French developer UVI delivers the sought-after sound of the superlative Steinway Model D concert grand piano with all the warmth, expressiveness, and detail of the real thing, thanks to deep multi-sampling, precision mastering, and advanced scripting. Secondly, Pianoteq 5 Stage is a physical modelling-based virtual instrument that provides acoustic and electric piano recreations as well as chromatic instruments. Indeed, KeyLab 88 represents a serious solution for today's technology-savvy pianists — performance and practicality living in perfect harmony, you could say.
But better still, KeyLab 88 comes complete with Arturia's acclaimed Analog Lab, an abundantly powerful software synthesizer solution with 6,000-plus presets by internationally-renowned sound designers derived from Arturia's award-winning range of Analog Classics. These include the TAE® (True Analog Emulation) synthesis-powered Mini V (MinimoogTM monosynth emulation), Wurlitzer V (virtually bringing back to life the well-known 'Wurly' electric piano), and much more… making for the perfect pairing: professional hybrid synthesizer. Similar to its smaller KeyLab siblings, KeyLab 88 offers the immediacy of a hardware synthesizer combined with the flexibility of a software-based solution. It is preassigned to work with Analog Lab from the get-go, giving users instant in-depth control over key sound parameters, such as filter cutoff, resonance, and adjusting envelopes, et cetera, courtesy of its supportive selection of knobs and sliders, 16 backlit pressure-sensitive pads, plus an informative LED screen.
Arturia has pushed the design envelope with well-thought-through added touches such as an attachable shelf extension to create a work surface suited to comfortably accommodating a laptop or even a lead synth such as Arturia's compact and bijou MicroBrute monosynth. Moreover, this extension even has a rubber base to prevent slippage during energetic performances! Meanwhile, music readers will appreciate an attachable sizeable music stand that is capable of holding the largest of songbooks but equally works well as a tablet holder, both in portrait mode for the environmentally-friendly sheet music app user or landscape mode for fans of iOS synths, such as Arturia's own iMini, iSEM, and iProphet iPad apps, for example.
Either way, KeyLab 88 ensures its users have everything they need, whatever their musical needs. Far more than just another MIDI keyboard controller, the road-ready aluminium and wood-constructed KeyLab 88 has been designed to take its rightful place at the centre of any studio or stage setup as the premier control centre for the modern musician.
For more detailed information, please visit the KeyLab 88 product webpage here: http://www.arturia.com/products/hybrid-synths/keylab88
VIDEO: