Arturia Announces V Collection 9 suite of professional software music instruments, with 4 new and 4 updated, 33 in total
Grenoble, France /MUSEWIRE – Music Industry Newswire/ — Arturia today has announced their new V Collection 9. They describe it as a "premium suite of professional software instruments ranging from modern hybrid synth engines to emulations of the most evocative instruments ever made, enhanced for today's production workflow." The latest iteration includes four entirely new instruments, and ground up reinventions of four of their most popular and complex virtual synthesizer instruments.
Update: pre-release info said 32 total instruments; Arturia updated info to state 33 instruments in total.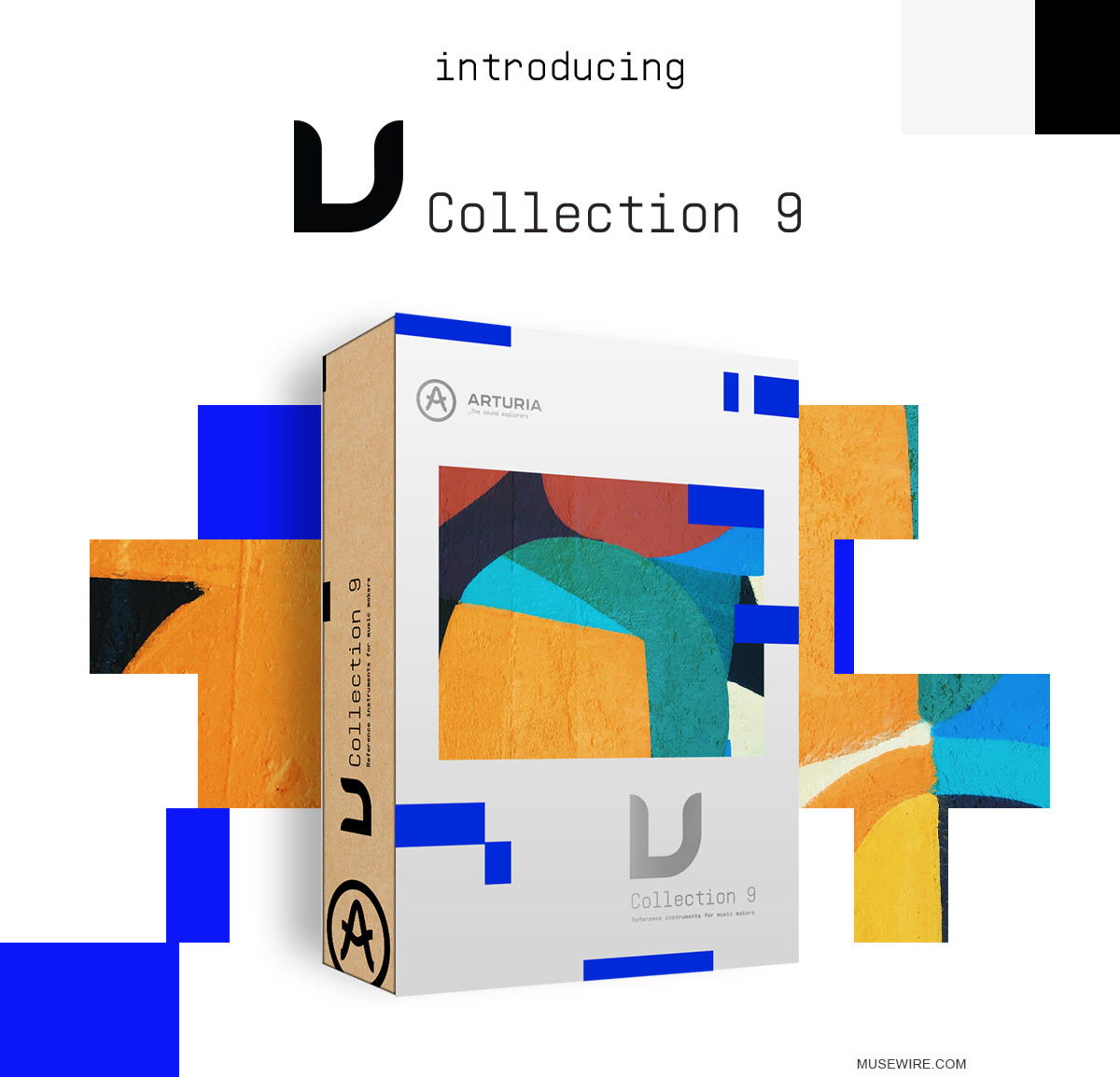 New In V Collection 9
KORG MS-20 V
Primal black monolith, with an elemental analog sound and a semi-modular architecture, reawakened.
SQ80 V
Hybrid lo-fi crosswave synth fusing thousands of digital waveforms combinations with crunchy analog filters. (Based on the popular Ensoniq keyboard series.)
Augmented STRINGS
Innovative instrument combining sampled strings with state-of-the-art synthesis and deep morphing controls.
Augmented VOICES
Blending the human voice with multiple synth engines and expressive controls for evocative hybrid sound.
4 Rebuilt Instruments
CS-80 V, Prophet-5 V, Prophet-VS V, and Piano V have been completely rebuilt from scratch, with brand new sound engines, updated features, and enhanced production capabilities.
14 exclusive sound banks
An exclusively-crafted selection of presets demonstrating the sonic prowess of each of V Collection 9's new titles.
Special introductory pricing and upgrades for existing V Collection owners will be available via the Arturia website. (To see upgrade pricing, customers must login to their account.)
According to the company, "Combining modeling expertise, a passion for supreme sound quality, and over two decades of engineering innovation, Arturia set out to create the new music production go-to. V Collection 9 gives you the most comprehensive range of inspiring pro-grade instruments and sounds to empower your creativity."
Instruments can be used "standalone" or in almost every DAW on macOS and Windows.
Learn more at: https://www.arturia.com/products/analog-classics/v-collection/
INTRO VIDEO:
Included in V Collection 9
Acoustic & Electric Pianos
Augmented Acoustic Instruments
What was included in V Collection 8?
In addition to the new and upgraded instruments, all of the existing instruments from v8 are included:
Analog Lab V
ARP2600 V
B-3 V
Buchla Easel V
Clavinet V
CMI V
CS-80 V
CZ V
DX7 V
Emulator II V
Farfisa V
Jun-6 V
Jup-8 V
Matrix-12 V
Mellotron V
Mini V
Modular V
OB-Xa V
Piano V
Prophet V
SEM V
Solina V
Stage-73 V
Synclavier V
Synthi V
Vocoder V
VOX Continental V
Wurli V
###
This version of news item first appeared on Musewire.com – all rights reserved. Copr. © 2022 Christopher Simmons.