Apple Updates LOGIC PRO X to 10.4 with new beats, reverb and smart tempo
Apple has announced a new update to its class-leading DAW for MacOS, LOGIC PRO X, to 10.4 with new virtual drummer profiles, smart tempo features and a host of new useful effects plug-ins for both tracking and mastering. Free for existing users.
Notable are is the new ChromaVerb algorithmic reverb, and Step FX which adds rhythmic multi-effect processing using 3 powerful step sequencers and an X/Y pad. Also, stand-alone Mellotron, and new horn and string section libraries.
The one annoyance for existing loyal Logic X users is that the update/upgrade will only be available to those running OS X 10.12 ("Sierra") or higher; and those who chose to "freeze" their older Mac Pro towers on "El Capitan" will not be able to download the upgrade from the App Store. (Editorial Note: while it may be possible to install the new version onto a Sierra machine, then "copy over" to your El Capitan Mac, I don't know of anybody who has yet tried this.)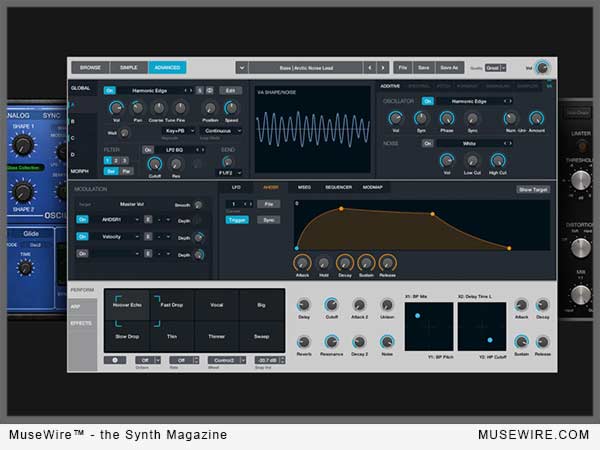 The laundry list includes all of the following new features:
New in Logic Pro X 10.4
New Features and Enhancements
Smart Tempo
Advanced tempo detection lets you automatically combine content together, regardless of their original tempo.
Record audio without using a click or drag in an audio file and have the performance define your project tempo.
Add any audio file and have it automatically conform to the project tempo.
Plug-ins
ChromaVerb is a sophisticated new algorithmic reverb with a colorful, interactive interface for creating rich acoustic spaces.
Space Designer has a new design and a scalable, Retina interface.
Step FX adds rhythmic multi-effect processing using 3 powerful step sequencers and an X/Y pad.
Phat FX makes your tracks bigger and bolder using 9 effects that add warmth and punch to your sounds.
The Vintage EQ Collection provides 3 accurate models of vintage analog EQs from the 1950s to the 1970s.
Studio Strings and Studio Horns are deeply sampled, realistic ensemble instruments with custom articulation controls.
Mellotron is now available as a standalone instrument plug-in.
Retro Synth now offers 18 different filter models.
Content
2 new Drummers play roots and jazz-influenced brush styles.
2 vintage brush kits for Drum Kit Designer .
More than 800 new loops in a variety of instruments and genres.
New Visions library for Alchemy adds 150 cinematic presets.
View complete changelog on Apple's website:
https://support.apple.com/en-us/HT203718