Animoog v2 with 4-track Recorder announced by Moog Music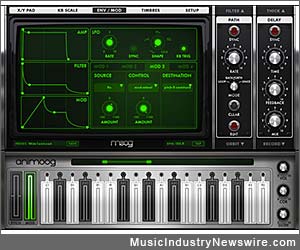 MuseWire NEWS: Moog Music this past week announced the latest version of their iOS app for iPad, the ANIMOOG V2. According to the company: This major update to the TEC-Award Nominated iOS synthesizer is a free update for existing Animoog users and includes many user requested features and product enhancements, such as: accelerometer integration which gives Animoog owners the ability to tilt their iPad in any direction as an interactive 3D modulation source; note hold and scale lock, and tools for advanced users like, Load/Save MIDI CC maps, Audiocopy/Audiopaste integration and support for the new Audiobus platform.
Also, as a holiday gift, Animoog V2 features a powerful 4 Track Recorder, which gives Animoog users the ability to record audio from within Animoog or import audio tracks directly from their iTunes library. Users can then split, loop, copy, paste, and share individual clips, or mix down entire songs and upload them directly to SoundCloud, all from within the Animoog universe.
This 4 Track Recorder will be free to existing users until Dec. 31, 2012 at which time it will revert to it's regular price of $4.99 in the Animoog Store.
VIDEO