All Things Buddy
MuseWire COLUMN: Buddy Holly. Songwriter. Rock and pop star. Not a one-hit or two-hit wonder, but a 27-hit wonder, all in about 18 months of worldwide fame. Born September 7, 1936, died February 3, 1959, but his songs will live until there is no more music.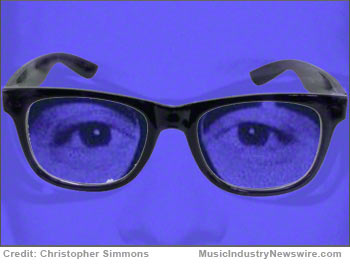 There will be a lot of "Day the Music Died" articles on September 7, 2011, a date marking the 75th birthday of Buddy Holly. In his 18-month reign as the first king of pop music, he achieved more than two dozen Top 40 hits. Songs were released under his own name or as The Crickets or as Buddy Holly and the Crickets, but under any moniker, his melodies and lyrics seemed to leap out of speakers in ways no one had ever experienced.
Some artists shape their sound from what came before; others create new sounds. Buddy Holly did both. Looking back now, it is not possible to appreciate the genius of his writing and recording without immersing yourself in the pop music that had preceded his work. Prior to the release of "That'll Be the Day" in May, 1957, there were very few recordings that managed to combine elements of country, pop, and rock 'n' roll. The sonic qualities of the record were friendly but different from anything heard on the radio. Perhaps they were different from anything ever played.
At that time, "rock" probably meant Bill Haley and The Comets and their "Rock Around the Clock," which was the title song to the film "Blackboard Jungle." But all of a sudden, rock music was news in almost every medium: motion pictures, television, radio, live shows, and the printed page. With a nearly non-stop schedule of creating, performing and recording songs, Holly virtually exploded across the world.
Holly had two recording contracts, one under his own name for Coral Records and another as a member of The Crickets for Brunswick Records. This unusual arrangement paid off handsomely as the hits from Holly continued to flow. "Not Fade Away" grooved. "Everyday" enticed. "Oh Boy!" rocked. "Peggy Sue" made you smile. "Maybe Baby" captured people's hearts. "Rave On" seemed to bowl you over. "It's So Easy" was a love song that made you dance. "Words of Love" hypnotized listeners with gorgeous double-tracked vocals. And so on.
Despite the multiple names listed as songwriters on his tunes, many sources report that his songs were, indeed, his. The other credits were mostly added as business arrangements, meaning that Holly was one of the first pop stars to create and shape his own material.
Lovers of pop and rock know about the music of the British Invasion in the early nineteen sixties, but Holly was in the forefront of an American Invasion of the U.K. more than a half-decade before that, criss-crossing the island to perform more than 50 shows.
Perhaps the best emotional insight to the man appears in Larry John McNally's song, "Buddy Holly," from his recent album of the same name. The track unfolds quietly, gently, but with an undercurrent of longing for redemption or even resurrection, while realizing that those are things that can never be entirely possessed. Just like Holly's best work, McNally's tune seems to be observational and introspective at the same time. When McNally sings:
In my garage band dreams
the world is a beautiful place
Wanna leave something behind
Not just disappear without a trace
And what it matters in the long run
is not for me to say
But if one man's moment is a little bit lighter
Then my work is not in vain
…he seems to be both inside and outside of Buddy Holly in the same instant. It's a flash of emotional insight that is magical and unquantifiable. The song concludes with lines that echo in the soul of everyone who has ever mourned someone's passing:
Thought I saw Buddy Holly last night
Over on Avenue C
Hands in his pockets, collar to the wind
Headed straight into eternity

Buddy Holly, folksinger, with a choirboy face
Looking down from a rooftop
On the Puerto Rican day parade
The accolades will be all around us this week, especially on the seventh. And I say this: Go ahead and enjoy some of the staged tributes to Holly and his music. Go ahead and watch Gary Busey in "The Buddy Holly Story." Go ahead and play Don McLean's "American Pie" and/or Madonna's remake of that song. And certainly look up McNally's song online. Just don't forget to also play some of the Holly originals.
Lyrics from "Buddy Holly" by Larry John McNally from the album, "Buddy Holly," copyright 2009 Larry John McNally Music (ASCAP). Used by permission. "Glasses" illustration by Christopher Laird Simmons © 2011. Article Copr. © 2011 by John Scott G, all rights reserved. Originally published on MusicIndustryNewswire.com.
"Oh Boy" VIDEO: