Akai intros second new MPC-style controller linked to new beat software: MPC Studio
MuseWire NEWS: Akai this week revealed their second of three new MPC-flavored products, as a follow on to the groovy new MPC Renaissance "Music Production Controller." The small, and shiny, MPC Studio is a slimline (one inch thick) controller that has traditional MPC style control buttons to right side of the familiar 4×4 MPC drum pads, then instead of knobs or sliders on left, are larger DJ-friendly dial-knobs.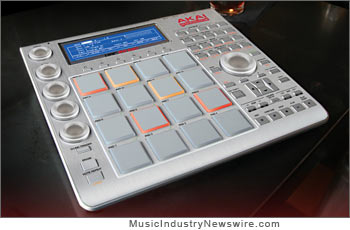 Very cool, very portable, and larger than the smaller version of N.I.'s Maschine Mikro, but more familiar layout for MPC-heads. Paired with "MPC" software with 64-track sequencing and MPC sounds, and a laptop, it's a pretty cool kit.
MPC Studio Hardware
•Fuses legendary MPC production with the processing power of your computer
•Compact design is less than 1" thin and fits easily into a laptop bag
•MPC SOFTWARE for Mac & PC with 64-track sequencing capability
•16 backlit genuine MPC pads, legendary MPC workflow & MPC Swing
•USB-powered with low-profile knobs and brushed aluminum body
•Large LCD screen allows you to make tracks without having to look at your computer
•Four touch-sensitive knobs provide enhanced MPC software control.
MPC Software
•64-track sequencing capability
•Massive 6GB+ sound library, including all of the sounds of the classic MPC3000
•Instant mapping and real-time adjustment of VST plug-ins
•Record each track as an MPC drum program, Keygroup program or VST plug-in
•Works alone as your main DAW or works seamlessly with your current studio as a VST/AU/RTAS plugin
•Supports WAV, MP3, AIFF, REX and SND
•Supports samples and sequences from any MPC ever made
•Mac and PC-compatible.
All I can say is, Akai is really answering the challenge from Native Instruments with these new devices, and hopefully they will finally merge the controller, software, and MPC workflow with PCs as many of us have long wanted!
Info: http://www.akaiprompc.com/mpcstudio.php
VIDEO: