God of Guitar: A Visceral Reaction to Jeff Beck
There are 6,189 seats in the Gibson Amphitheater and guitar players are in 5,133 of them. Girlfriends of guitar players are in the rest.
The occasion is a rare appearance by Jeff Beck, a somewhat reclusive Englishman whose stunning fret-board work has influenced pop, rock, heavy metal, blues, R&B, and jazz-rock fusion.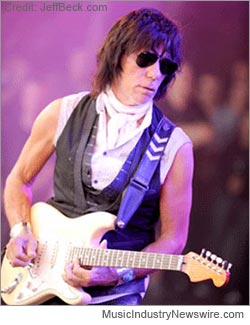 Alternating between sounds of ethereal beauty and riffs of overpowering intensity, Jeff Beck came, saw, and conquered. He was never less than extraordinary in a show that repeatedly reached heights of emotional response rare for instrumental rock. The recital was awe-inspiring, even to the non-guitarists in the crowd, and judging by the adulation of the audience, Beck could have continued playing all night long.
It is hard to say at what point the evening morphed from a mere concert to a magnificent musical festival that featured multiple genres, but the feeling in the arena eventually became a celebration of sonic glory.
It may have been after the first slow blues number that things began to change. Beck proved that creating a jolt of excitement isn't dependent on playing at a dizzying pace or using esoteric time signatures (something musicians dig but which makes the public shrug). Even playing slow 'n' soft, Beck can wrap you up in his axe pyrotechnics and send chills up and down your spine.
State of Grace
With harmonious ecstasy in every note he played, Beck and his band embraced multiple genres, from blues and pop to power rock and fusion. With their superb performances and spirited interaction, tidal waves of emotion were poured over the congregation. In the face of such prowess and music of such grandeur, multiple standing ovations quite naturally ensued.
BOOK SERIAL: Ambient Deviant Speedmetal Polka Chapter 2. This is an excerpt from the forthcoming book, "Ambient Deviant Speedmetal Polka: Rock Writing, 1990s to 2010s, Los Angeles" by John Scott G.
Jeff Beck is a recognized genius of the electric guitar, having created stunning music as a member of the Yardbirds before leading a series of his own bands: The Jeff Beck Group; Beck, Bogert, and Appice; and Jeff Beck's Guitar Shop. In a career that has seen numerous "retirements" so he can work on classic cars while puttering about his U.K. estate, Beck fortunately keeps returning and over the years has performed with Stevie Ray Vaughan, Rod Stewart, Roger Waters, Ron Wood, Aynsley Dunbar, Nicky Hopkins, Cozy Powell, Bobby Tench, Mick Jagger, Imelda May, Jan Hammer, Terry Bozzio, and Tony Hymas, as well as creating albums with producers George Martin and Nile Rodgers.
Sharing
As a member in good standing of the pantheon of guitar gods, it is interesting to note that Beck is more than happy to recognize other great talents on his chosen instrument. Which is why he elected to tour with another player who may very well be his equal in skill. While not as widely known, Jennifer Batten has extensive recording and touring credits (can you say "guitarist on Michael Jackson's 'Bad' and 'Dangerous' tours") and she outdoes herself when playing with Beck.
She may have even pulled off the more difficult feat in that she had so much to do and came through in such impressive fashion on all of it. In her work for this show, she not only contributed stellar rhythm parts and outstanding tapped lead lines, but she also supported many passages of the songs using a phenomenal array of guitar synthesizer tones ranging from organ to flute to massed orchestral strings to jet plane fly-bys complete with Doppler effect. If Jeff Beck rules, as some audience members averred, Jennifer Batten is certainly a rival champion.
Big Band Boom
Behind Beck and Batten were a couple of artists who can rightly be called giants of rhythm: Steve Alexander on drums and Randy Hope-Taylor on bass. They acted as sonic sculptors, carving out jagged shards of pure aural magic.
So: Beck, Batten, Alexander, and Hope-Taylor. As a foursome, they were awesome. Many musical elements were merged, but most often it seemed they were playing technorock, if we can consider that its own genre. And while some techno music can sometimes seem cold, this quartet created extended auditory landscapes that were earthy, organic, and human. The interplay between these masters was thrilling whether on quiet passages or the wildest electro-groove explosions.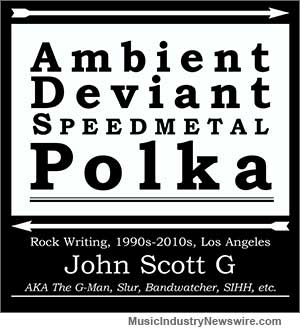 Opening with "What Mama Said," which is the first track on Beck's outstanding "Who Else!" album, the foundation was established for an evening that would transport listeners on a 100-minute ride through Elysium. There are no vocals on the album save for a couple of brief samples, like a Dick Shawn line from the film "It's a Mad, Mad, Mad, Mad World" on "What Mama Said," and some female whispers (reportedly by Chrissy Hynde) on "Space for the Papa." likewise, there were no vocals in the set. That doesn't mean there was no vocalizing in the amphitheater because there were plenty of roars of approval from the feverishly happy audience.
Playing several tracks from the new album, the band was a joyful gift to one's ears. They offered a killer version of "Brush with the Blues," which took that soulful tune and injected it straight into the marrow of your bones. Which might sound painful but was quite a nice hit, actually. Their version of "THX138" revealed the many ways that euphoric ensemble playing can put human feeling into even the most industrial beats.
When they dipped into tunes from Beck's classic fusion albums, "Wired" and "Blow by Blow," there were shouts of appreciation about half-a-heartbeat after the opening chords of each song. On the new material, the shouts came after each solo. Needless to say, every crunching conclusion preceded a booming roar of approval. (Yes, dear alert reader, that phrase was already used in this write-up, but hey, they kept on happening and I'm just trying to give you a sense of what it was like to experience this program. Roar of approval, roar of approval, roar of approval. There. Okay, that covers about one-third of them.)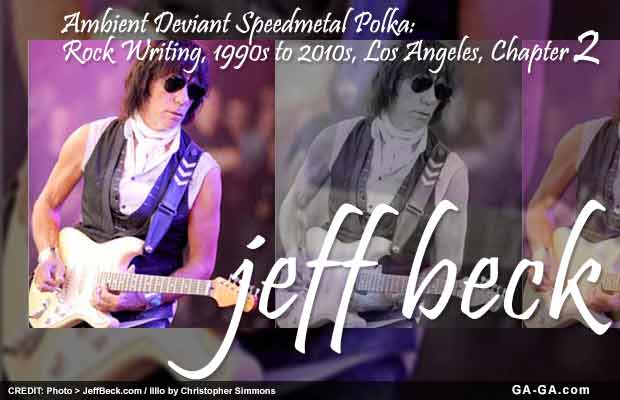 In addition to being a success in a whole bunch of nifty ways, the show was also a triumph of dynamics. Let me tell you that it is so refreshing when rock musicians are confident enough to play soft 'n' sweet once in a while.
There were beautiful interludes that made you want to cry; each one followed by progressively more frenzied guitar gymnastics from Beck and Batten, and all of it jam-packed with pulsating excitement from Alexander and Hope-Taylor. For anyone who loves the aural possibilities of amplified instruments, this was an absolute freak-out.
Sad for the Rest
The only downside to a tour this musically satisfying is that several thousand guitarists all over the world attempted their own blending of rock, jazz, techno, and electronica; and, sadly, they all fell short. There is, after all, only one Jeff Beck.
For more information: http://www.jeffbeck.com/
Video of "What Mama Said"
BOOK SERIAL: Ambient Deviant Speedmetal Polka Chapter 2.
Excerpt of book serial "Ambient Deviant Speedmetal Polka: Rock Writing, 1990s to 2010s, Los Angeles" is Copr. © 2012 by John Scott G – all commercial and reprint rights reserved. Originally published on MusicIndustryNewswireCOM (Thu, 07 Jun 2012), a publication of Neotrope®, before finding its permanent home on Ga-Ga.com. PHOTO CREDIT: from http://www.jeffbeck.com/jeff-bio.php. Beck ADSP illustration by and © 2013 by Christopher L. Simmons.