Yamaha Announces Motif XS Keyboard Series
Yamaha Corporation of America (www.yamaha.com) has expanded on their top line of synthesizer workstations with the new Motif XS, featuring new sounds and new creative tools in a redesigned, intuitive user interface. The Motif XS includes new Xpanded Articulation sounds featuring 355 MB of wave ROM to inspire creativity, while Performance Recording with four intelligent arpeggiators and over 6,000 phrases instantly capture musical ideas.
Also included are an Integrated Sampling Sequencer with up to 1GB of memory for creating complete MIDI/audio productions, studio-style mixing and VCM (Virtual Circuitry Modeling) effects from the Yamaha high end mixing consoles to master your music right on board. A large color LCD and eight assignable knobs and sliders allow hands-on control over virtually any parameter.
A wide selection of special Mega Voices provide even more expressive nuance, when used with sequencer tracks or the special Mega Voice Arpeggios. Mega Voices are not meant to be played from the keyboard because of their complex velocity layers, but have special expressive sounds that are designed to be precisely triggered by recorded data — for example, letting you create an acoustic guitar track with authentic sounding muted playing, slides and bell-like harmonics.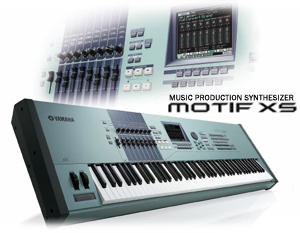 While you experiment and play around with Arpeggios in the Performance mode, the song ideas will come fast and fierce — maybe too many to remember. No worries, though. You can capture them easily and directly by recording them to a Song or Pattern (which can be stored to the built-in flash memory). Since the data is MIDI, you dont have to worry about running out of recording space. You can record your keyboard playing, freely calling up various Arpeggio types as you improvise, then edit the Song later as necessary. You may even want to keep the recorder running as you play, then listen back later and pick out the best parts to create your final composition.
Firewire and Ethernet computer connectivity and a special Yamaha version of Steinberg software, Cubase AI, complete the package for a completely integrated music creation and recording solution.
The Remote Control mode lets you control your DAW software right from the panel of the MOTIF XS — for example, starting and stopping playback/recording with the special transport buttons, changing track levels with the sliders, and tweaking parameters with the knobs.
The MOTIF XS is also compatible with the MOTIF XS Editor — a comprehensive, easy-to-use editing software program that lets you edit (via USB connection) the Mixing setups and Mixing Voices to be used for Song/Pattern playback directly on your computer. The MOTIF XS Editor is free and can be downloaded from the Yamaha website. Naturally, the editor can be used within Cubase as part of Studio Connections, and all settings can be saved with each project for instant recall.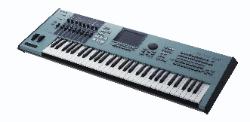 The XS line includes the XS8 (featuring an 88-note graded hammer action keyboard and built-in FireWire connectivity) at an MSRP of $3999, the XS7 76-note version at an MSRP of $3539, and the XS6 61-note version with an MSRP of $2799.
For more information on the Motif XS, visit
http://yamaha.com/yamahavgn/CDA/Home/YamahaHome/
or the MOTIFator Website
http://www.motifator.com/
About Yamaha
Yamaha Corporation of America is the largest subsidiary of Yamaha Corporation, Japan and offers a full line of musical instruments and audio/visual products to the U.S. market.
[tags]Yamaha Motif XS, Virtual Circuitry Modeling, Xpanded Articulation sounds, Yamaha music instruments[/tags]