Xylote.com Releases Trance Techno Particles (Wav Acid/Apple Loops) followed by a Remix Contest
PADUA, Italy (MuseWire) – Xylote.com has announced the release of its new sample pack "Trance Techno Particles." The sample pack includes sounds and loops that can be used for techno, trance, tribal, and other music genres. "This new sample pack gives musicians and producers a little bit of the greatest trance and techno sounds of the '90s and '00s," says Daniel Macovei, founder of Xylote.com. "We wanted to find a way to combine hundreds of diverse sound effects, loops, and construction kits into one easy-to-use package."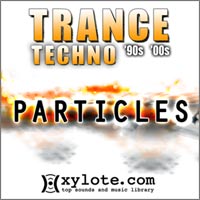 The sample pack comes equipped with:
• 13 trance construction kits structured into 5 folders (intro/outro, main kit, variation kit, single sounds, sfx)
• more than 401 loops (basses, pads, synths, strings, etc.)
• 120 kick-free loops (I measure long)
• 157 single sounds (kicks, snares and various percussion sounds)
• 32 crash cymbals
• 13 Logic Pro Projects included in the Aiff/Apple Loops package
• 13 Acid Pro Projects included in the Wav/Acid package
• Total loops and single sounds: 710
• Total size: 656 MB
• Formats: Wav/Acid; Aiff/Apple Loops.
* (Cover Artwork: http://www.xylote.com/covers/300_dpi.jpg)
Taking the best and most-loved beats and effects from their vast library, Xylote has succeeded in offering a virtual "best-of" collection with this new sample pack. Trance Techno Particles is perfect for beginners who are still experimenting with style or professionals who need specific sounds at a moment's notice.
Xylote.com is offering Trance Techno Particles for a six months promo price of 19,99 EUR. Daniel Macovei says that the product's price is revolutionary. "You just can't find that kind of selection for this price. We're hoping to introduce a lot of musicians to the benefits of Xylote who wouldn't normally have the chance to obtain premier samples, sound effects and professional construction kits."
Xylote provides the downloadable sample pack from its website – www.xylote.com .
Following the release of this brand new sample pack Xylote is also hosting a remix contest, starting from May 15, 2010. The contest will enable djs, musicians and producers to create original mix using the samples, sound effects and loops found in the package.
The contest, which will begin next month, will award the tops five winners with the following prizes:
1st place: Lifetime Membership
2nd place: 500 Credits
3rd place: 350 credits
4th place: 250 Credits
5th place: 150 Credits.
Contest rules and details will be announced in the coming weeks.
More information: http://www.xylote.com .