XILS-lab Announce LX122 Rotary Speakers 'Leslie' Emulation Plug-in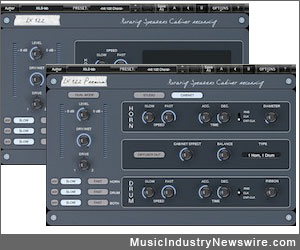 GRENOBLE, France (MuseWire) – XILS-lab today announced their newest plugin which they describe as so: "Combining Tube based amplifier simulation, rotating speaker effects and room responses, the LX122 would not truly be an XILS-lab Instrument if did not offer a combination of authentic vintage sound and unique and innovative features you won't find anywhere else."
Two versions of LX122, regular and "Premium" are available.
Quick Core Modules features
* One finely emulated rotating speakers, treble output in a rotating Horn, bass output in a rotating drum.
* True Stereo Dynamic Engine (TSDE) places the cabinet in a room, from which it is recorded by two microphones.
* Three Reverb types, to give even more space to your recordings
* Slow to Fast mode buttons, midi controlable to play with the inertia.
* Tube amplifier emulation.
The LX122, for a very affordable price, is offering you what you expect from a rotary speakers emulation, but the LX122 Premium, brings you much more, from creating your own cabinet to recording it without limitation.
Quick specs: LX122 and LX122 Premium are available in the following formats:
– Mac OSX 10.4 (32 bits PowerPC and Intel), 10.6 (32 and 64 bits Intel) and later : VST, Audio Unit, RTAS (ProTools 7.0 and later).
– Windows XP, Vista and Windows 7 (32 and 64bit) ; VST, RTAS (ProTools 7.0 and later).
LX122 and LX122 Premium are 32 bit and 64 bit plug-ins.
Until December 5th save up to 30% on the LX122 or the LX122 Premium on the XILS-lab web store. More information: http://www.xils-lab.com/pages/LX122.html .
First of several demo videos: