Voice Coaches Education and Recording Studios Partners with Voices.com
Graduates of the Voice Coaches program enter the world of professional voiceover, debuting their voiceover demos on Voices.com.
NEW YORK, N.Y. — Voice Coaches, a voice over educational institution based in Schenectady, NY, has implemented a perfect way for their graduates to start their voice acting careers off by partnering with Voices.com, the industry's online marketplace. Already trained and armed with a voice over demo, the grads from Voice Coaches will be able to manage their own website at Voices.com and apply for work opportunities through the web service, getting their name and voice out to clients from all over the world.
The road to Voices.com starts with Voice Coaches students working with the company in person or from the convenience of their home via a phone link with the Voice Coaches studios.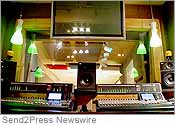 Clients of Voice Coaches also have the option to travel to their main studio for demo production, or to work with the staff remotely at a Voice Coaches Certified Studio in their area, carefully chosen to offer the best real-world recording experience. All Voice Coaches training requires an initial voice evaluation.
Voices .com CEO, David Ciccarelli, says, "By joining forces, Voice Coaches talent receive the best opportunities possible for career success and the caliber of professional talent at Voices.com also increases."
Voice Coaches offers one night introductory voice over classes from coast to coast. In 2008, they will present approximately 450 single evening workshops.
About Voice Coaches
Voice Coaches, based in Schenectady, NY offers a complete training solution to aspiring voice actors, including voice evaluation, private training, commercial and narrative demo development and automatic placement on the web's number one marketplace for Voice Actors, Voices.com. Voice Coaches is dedicated to unparalleled ethics in training and is a member of the BBB, The Voice and Speech Trainers Association, and The American Society for Training and Development. www.voicecoaches.com
About Voices .com
Based in London, Ontario, Canada, Voices.com provides an online marketplace, facilitating transactions between business clients and voice-over professionals employing a comprehensive suite of web-based services. Clients that have worked at Voices.com include NBC, ESPN, PBS, The History Channel, Reader's Digest, Comcast, Nortel Networks, Bell Canada, Microsoft, Cisco Systems, ING, Western Union, Ford, GM, Jaguar, US Army, the US Government and more.
[tags]CEO David Ciccarelli, voiceover training solution, aspiring voice actors, Voice and Speech Trainers Association, Voice Coaches Certified Studio[/tags]