Visual Poetry and 'Eye Haiku' Highlight FookMovie Music Videos
LOS ANGELES, Calif. (MuseWire) – With images inside of images and a nod to such masters of visual communication as surrealist Salvador Dali, the music videos of FookMovie (www.fookmovie.com) bring together poetry, painting, and performance art. A Los Angeles-based collective of artists, musicians and videographers, FookMovie has completed 43 videos since opening in April of 2008. "FookMovie is the visual production division of Golosio Publishing," states John Scott G (recording artist The G-Man) "and one of our goals is to appeal to the poet and artist inside of everyone who browses the Web looking for music and video entertainment. We tell people many of our videos are visual poetry or eye haiku."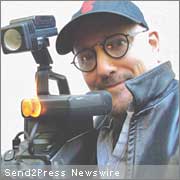 The video to "Thorne" is loaded with religious and psychological symbolism, including images relating to death, baptism, repression, violence, molestation, resurrection, and redemption. Director Nicholas Laurence G spent six weeks putting the video together using multiple layers of visuals.
The surrealism in "88 Gates of Logic" is sometimes eerie, notes Scott G, "although it is most often playful and humorous, albeit in a moody sort of way. But those qualities describe the music of '88 Gates' so it's a perfect fit."
There is emotional punch in the video to "Beautiful World." Accompanying the country swing big band song performed by Scott Joss and Doug Colosio are images of burning wedding and anniversary announcements. "The sense of loss is incredibly strong, and this feeling accurately mirrors the lyrics of the song written by Wayne Dean, Joss and Colosio," Scott G points out.
The FookMovie Web site has all videos in QuickTime and offers links to the videos on YouTube and Veoh. "The mature-themed videos are only on Veoh because they have a category for 18+ content," G notes, "but they are on our site with warning labels."
About John Scott G
Scott is a partner in Golosio Publishing (BMI), Audio Masterworks (ASCAP) and Golosio Audio Masterworks (SESAC) in Los Angeles. Music created by artists signed to Golosio has been in commercials for Verizon Wireless, Goodrich, The Auto Club, DIRECTV, Micron, Legoland, General Dynamics NASSCO and many others. A member of The Recording Academy (www.grammy.com) and on the Board of NARIP, The G-Man has 8 albums on iTunes.
Contact:
Scott G of FookMovie
scott@fookmovie.com; 818-223-8486.
http://www.fookmovie.com
YouTube video to "88 Gates of Logic":
http://www.youtube.com/watch?v=umvs1XoRM7k .
[tags]FookMovie music videos, John Scott G, Golosio publishing, 88 Gates of Logic video[/tags]