VirSyn CUBE 2.2 Remorphing Synthesizer Announced
Pfinztal, Germany — The latest version of VirSyn's morphing additive synthesis virtual synth, CUBE 2.2, was announced today. The update comes with a vastly improved resynthesis for complex and inharmonic sounds. Also included is a free soundbank and some bug fixes related to pitch bend, and for both Ableton Live and Intel Mac users.
What's new in CUBE 2.2:
– Spectrum analyser vastly improved for inharmonic/noisy spectra.
– Sound bank "Art of CUBE" with 64 presets.
– Library with over 40 new analysed spectra.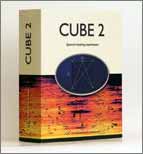 What is VirSyn Cube?
CUBE is a groundbreaking new software instrument giving you the power and flexibility of additive synthesis together with easy editing and morphing capabilities. Macro parameters allow you to control this beast with unequalled ease. CUBE is available for Windows and Mac OS X as standalone program and VST / AudioUnit plugins.
In addition to resynthesis and sound shaping, one notable sound manipulation form in CUBE 2 is to take up to four sound sources and make all parameters and spectral components move inside this "cube." Take, for example, a flute like sound as one source and a trumpet like sound as another source. The result is a sound morphing from flute to trumpet! The movement can be made automatically with the morphing envelopes or manually by using MIDI controllers or the mouse.
Bug fixes in 2.2 Update:
– PC: manual morphing now possible again.
– Pitchbend problems fixed.
– Ableton Live: Crash on VST scan fixed.
– Ableton Live: GUI refresh problem fixed.
– pre VST 2.4 host compatibility improved.
– Freeze problem with analysis mode "Noise" fixed.
– Pitchbend/Modulation wheel on GUI exchanged.
– Mac: File dialogs remember last location according to file type.
– Modulation of Brightness via Modwheel fixed.
– Intel based Macs: Overdrive effect couldn't change type.
This update is free of charge for all registered users of CUBE 2.
Sound demos are available here:
http://www.virsyn.de/en/E_Products/E_CUBE_2/e_cube_2.html
Demoversions for Win/Mac are available here:
http://www.virsyn.de/en/E_Demo/e_demo.html
[tags]VirSyn Cube, VST instrument, additive synthesis instrument[/tags]