VirSyn Announces POSEIDON 1.01 Soft Synth
PFINZTAL, Germany — Hot on the heels of their 1.0 launch announcement in March, VirSyn has already posted a patch to their new chaos synth called POSEIDON – the Ocean of Sound, which updates the program with both new features and the expected minor bug fixes for a new product.
The company describes Poseidon in this way: "If you thought that everything is already invented then POSEIDON will wake you up! For all creatures in the ocean of sound – Sonic textures from other worlds, Analog signature sounds, Cut-through-the-mix leads and silkily smooth pads: POSEIDON sets a new standard for sounds and ease of use. All of this was made possible through a combination of the familiar, conceptual simplicity of the analog synthesis and our new, F-Domain synthesis technology."
Basically this makes for an interesting moving, evolving instrument which doesn't sound anything like Atmosphere, the Wavestation, or other timeline based virtual instruments. To my ears it reminded me of Kyma mixed with a spatializer filter on crack, or perhaps more accurtately, some of the morphing features of Virsyn's CUBE. Maximum weirdness. to put it mildly. You have to hear the demos, to get a sense of this. It won't be for everyone, but it is different.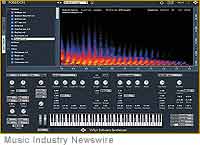 The bass demo (see the "Dirty Harry" demo clip on the VirSyn site, link below) is really a standout for more "normal" musical sounds, as it has a buzzy sound like an OBXa on top of an OSCAR. Some of the sounds were a bit too much "static" to my ears versus a warm analog buzz, but this is based solely on the demo clips available and not a review copy.
But here's more of their description of this audio oceanic dweller: "At first sight POSEIDON looks like a simple structured analog 'Oscillator-Filter' synthesizer with all controls visible at once. This gives POSEIDON the ease of use with nearly no learning curve. The real power is working under the hood: The oscillator is nothing less than the award winning spectral modelling sound generator of CUBE. The variable slope Filter is a completely new design based on our unique F-domain synthesis."
Some basic features of the program:
Spectral modelling oscillator
– 512 oscillators
– harmonic/inharmonic spectra
– arbitrary noise spectra
– 8 times unisono mode
Time machine
– free control over temporal evolution of sound
– modulatable time stretching/compression
– time freeze
Timbre control
– natural Brightness control
– Balance partial spectrum and residual noise
– Frequency stretching
– Amplitude/Frequency blur filter.
F-Domain Filter
– Lowpass / Highpass / comb / Antiresonance
– Unique design with resonance and bandwidth.
Spatializer
– Independent moving stereo position of each partial
Resynthesis
– AIFF/WAV sample import
– Sine spectrum
– Residual spectrum
Effects
– Chorus/Phaser/Flanger
– Distortion
– Echo/Delay
– Reverb
Formats
– standalone and plugin
– VST / AudioUnit / RTAS support
– Scala compatible Microtuning
New in v1.01
– Key trigger modes for envelopes: normal, reset and single.
– 64 new presets (only available in the sales version !)
Bug Fixes from v1.0
– Intel based Macs: Problem with Multiprocessor fixed.
– Ableton Live: crashes on MIDI program change.
– Effect settings didn't reload correctly with some hosts.
– Menu texts showed up very slowly sometimes.
– Mac stand alone version: Interface disappeared if clicked outside POSEIDON.
The download version of POSEIDON is available for 199 Euro in the VirSyn online shop. The boxed version will be available late April from retailers for a MSRP of 219 Euro or $279 USD.
A fully functional demo version (20 hours of use for 30 days) is available at:
http://www.virsyn.de/en/E_Demo/e_demo.html
Some really wild sound demos can be found at:
http://www.virsyn.de/en/E_Products/E_POSEIDON_2/e_poseidon_2.html
[tags]VirSyn virtual synthesizer, Poseidon VST, soft synth plugin[/tags]