UVI Sounds and Software unveils Vintage Legends virtual instrument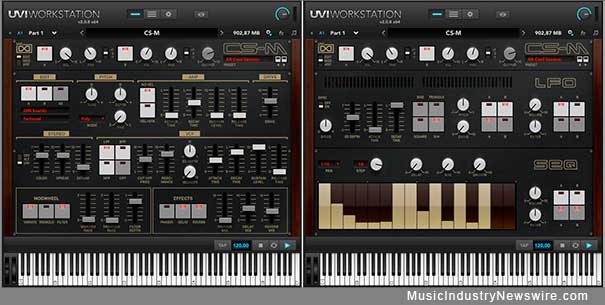 Paris, France (MuseWire) – UVI's Vintage Legends has been announced and contains samples from many rare and desirable electronic synths. It's described by UVI as "Six brand-new soft synths with the brilliant depth and character of classic hardware. Instantly call up inspiration from: the Yamaha CS-70M, CS-40M and CS-20M, the crazy Italian Elka Synthex, the Rhodes Chroma, the king of FM – the Yamaha DX1, the rare DK Synergy and the classic K250 revisited."
It comes packed with over 800 presets expertly crafted by our sound design team, giving you a huge library of unique sounds and textures.
From modern prog and pop to dance, electro, hip-hop and experimental, Vintage Legends is a deep and versatile sonic resource that's sure to inspire artists working in any style.
Special introductory price: $299 instead of $349
Each instrument features an intuitive and evocative GUI with a versatile and easy-to-navigate control set helping you to quickly shape sounds to fit your needs, transform them for wild inspiration or crack open the unit and design your own.
Timeless sounds. Infinitely customizable. Compatible with everything.
– UVI CS-M – Vintage Japanese Power
– UVI SYNTHOX – The Real Italian Stallion
– UVI KROMA – Premier Analog Synth
– UVI FMX1 – The Gem of FM
– UVI U1250 – Dawn of the ROM Age
– UVI ENERGY – Additive Fury (bonus only available in Vintage Legends).
COMPATIBILITY
With the free UVI Workstation 2.0.8 (required version), UVI Vintage Legends can work:
• as a stand-alone instrument, compatible with Mac & PC
• as a VST, AudioUnit, RTAS and MAS plug-in.
** iLok required.
With MachFive 3 – make the most of all editing features included!
* Yamaha, Elka, ARP, Rhodes, Kurzweil, D.K, CS70M, CS40M, CS20M, DX1, Synthex, Chroma, K250, K1000 and Synergy are trademarks of their respective owners and are not affiliated, endorsed, connected or sponsored in any way to UVI or any of our affiliate sites; therefore do not be confused between UVI and these brands.
LEARN MORE AT: http://blog.uvi.net/sounds-instruments/vintage-legends/ .
VIDEO:
http://youtu.be/pQvODq_3w38