UVI announces Ether Fields expansion for Falcon with presets by sound designer Simon Stockhausen
UVI has announced "Ether Fields," a new expansion pack for Falcon which "delivers a stunning selection of expertly designed patches" by one of the world's preeminent sound designers, Simon Stockhausen. The collection includes bells, pads, soundscapes, granular and hybrid sounds, wavetables, sequenced sounds and more; perfect for those looking to expand their library of ready-to-play patches and ideal for those looking for inspirational starting points for their own sound design.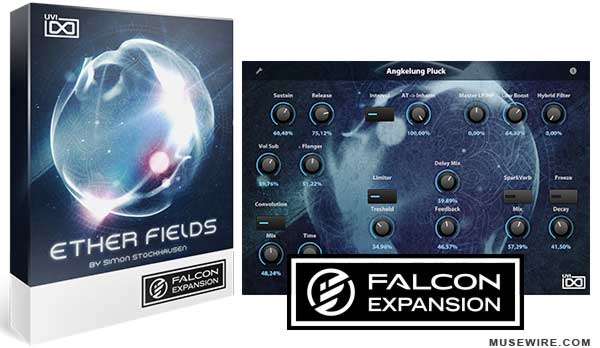 The sounds in Ether Fields are lush and dynamic, ranging from mysterious and complex tonal percussives to luminous, evolving soundscapes. The quality of patches reflects Simon Stockhausen's deep knowledge of sound design and mastery of Falcon's architecture, resulting in extraordinarily rich and dimensional tones and textures. Each of the included patches provide custom macro controls configured by Simon to allow users to quickly modify and experiment with the sounds to suit their needs or explore new territory. Patches can be easily browsed, layered, transformed or customized with the limitless editing facilities available in Falcon.
Ether Fields leverages the advanced synthesis capabilities and software architecture of Falcon, which sports 15 oscillators, over 80 effects and a fast and intuitive interface that adeptly handles both basic tasks and deep instrument design. All presets have been programmed with macros which provide the user with easy access to the key parameters of each patch. These may be controlled via MIDI, OSC, host automation and Lua scripting, allowing for easy customization and expressive performance capabilities.
Ether Fields requires UVI Falcon. Falcon offers native 64-bit operation as a stand-alone application and is available as a plug-in supporting all popular formats on both Mac and Windows. Ether Fields supports simultaneous authorization on up to 3 computers or iLok keys.
Falcon license required. Not compatible with UVI Workstation.
Pricing and Availability:
Ether Fields is available immediately for $39 / 39€ from authorized dealers and uvi.net
Additional Information:
Additional information on Ether Fields is available at:
https://www.uvi.net/ether-fields.html
Short demo trailer (YouTube):

SYSTEM REQUIREMENTS
Runs in Falcon version 1.2.0+
iLok account (free, dongle not required)
Internet connection for the license activation
Supported Operating Systems:
– Mac OS X 10.7 or higher (64-bit)
– Windows 7 or higher (64-bit)
Hard Drive: 7,200 rpm recommended or Solid State Drive (SSD)
4GB RAM