UVI announces Emulation One, the sequel prequel to the now famous Emulation 2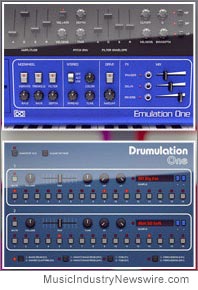 Paris, France (MuseWire) – New from UNIVERS SONS (UVI), Emulation One is the sequel prequel to the now famous Emulation 2, presents you with the unbridled sonic imprint of this "nearly affordable and compact" sampler from 1981. Used by greats such as Vangelis, Herbie Hancock, David Bowie, Depeche Mode, Genesis, Kitaro, Jean-Michel Jarre, Stevie Wonder, Philip Glass, John Carpenter and more, this 8-bit classic will surely inspire you on new voyages of sound as you rediscover the magic character of this 80's gem.
UVI prides itself in providing the highest quality instruments. Meticulous process is designed from the start to ensure the original character of these machines is preserved faithfully. Deep multi-sampling utilizing the very best analog and digital equipment is combined with industry-leading modeling tools to give you a hybrid instrument that's both genuine to the original and thoroughly customizable.
We carefully selected and recorded over 200 of the best sounds from a fully restored unit. Old-school drums, bass, choir-voices, fretted instruments, FX, keys, mallets, percussion, synths, strings, orchestral hits and more are all here.
Also included with Emulation One is the new Drumulation One – a beatbox and step sequencer loaded to the brim with vintage 8-bit drum and percussion sounds.
Add a piece of history to your musical arsenal and paint the future with the magic of the past–Get Emulation One today!
COMPATIBLE WITH ALL SEQUENCERS:
With the free UVI Workstation 2.0.6 (required version), UVI Emulation One can work:
• as a stand-alone instrument, compatible with Mac & PC
• as a VST, AudioUnit, RTAS and MAS plug-in. iLok required.
With MachFive 3 – make the most of all editing features included!
AVAILABLE NOW: US$99.
Info: http://www.uvisoundsource.com/all-products/emulation-one/product_info.php/cPath/1/products_id/73 .