Universal Audio updates UAD-2 Powered Plug-ins: adds 1176 Classic Limiter Collection
SCOTTS VALLEY, Calif. (MuseWire) – Universal Audio (UA), this week announced release of the 1176 Classic Limiter Collection for the UAD-2 Powered Plug-Ins platform and new Apollo High-Resolution Audio Interface. Picking up where UA's original 1176LN Limiting Amplifier plug-in left off, this new 1176 collection provides unrivaled emulations of three distinct 1176 hardware units, and is indispensable for any serious engineer or producer.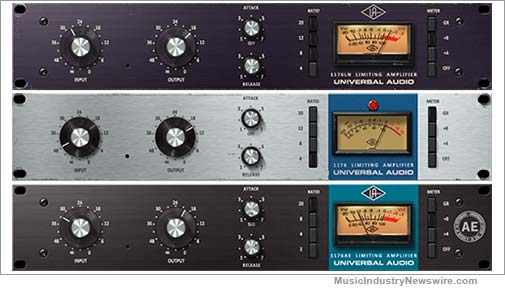 The new 1176 Classic Limiter Plug-In Collection models the Bill Putnam Sr.-designed FET limiter's entire electronic path from stem to stern — including its transformers, FET and bipolar transistor amplifiers, and input/output distortion — and boasts improvements to its gain reduction nonlinearities and Attack/Release fits.
"While our original 1176LN plug-in is still the closest software emulation of the original hardware available, we've learned a lot in the ten years since its release. That knowledge has produced the 1176 Collection," says Matt Ward, President of Universal Audio. "The results are simply stunning, and we're thrilled to be able to offer this to our UAD-2 customers."
The 1176 Limiter Plug-In Collection provides three distinct 1176 revisions, representing over 40 years of design iterations. The Rev A "Bluestripe" represents the original Putnam FET limiter design, complete with its higher distortion and unique FET gain amplifier characteristics. The Rev E "Blackface" covers the early 70's / Brad Plunkett "LN" (Low Noise) era of the 1176 circuit lineage, with a more linear compression response, transistor gain amplification, and a change to the program dependency. The 1176AE emulates UA's rare 1176 40th Anniversary Edition, complete with exclusive "hot-rod" mods — including its lower 2:1 compression ratio and a fixed "super slow" 10ms attack mode.
Also included in the 1176 Classic Limiter Plug-In Collection are handcrafted presets from some legendary 1176 enthusiasts: Ed Cherney (Eric Clapton, Bonnie Raitt), Joe Chiccarelli (The White Stripes, The Killers), Carl Glanville (U2), David Isaac (Marcus Miller, Luther Vandross), Andy Johns (Led Zeppelin, Rolling Stones), Jacquire King (Kings of Leon, Norah Jones), Hugo Nicolson (Radiohead, Björk), Vance Powell (The Dead Weather, The Raconteurs), and Andrew Scheps (Adele, Red Hot Chili Peppers).
The 1176 Classic Limiter Collection is now available as part of the new UAD Software v6.2 release, and can be purchased for $299 via UA's Online Store, or for $149 for current owners of the original 1176LN Limiting Amplifier Plug-In.
1176 Classic Limiter Collection features include:
•Faithful emulation of legendary M.T. "Bill" Putnam-designed classic FET Limiter, the most popular compressor ever made
•Includes three famous versions: Rev A, Rev E, and AE — each with their own specific features and sonic attributes
•Models entire electronic path, including transformers, FET and bipolar transistor amplifiers
•Compression circuit model includes improved gain reduction nonlinearities and Attack/Release fits
•Famous ultra fast attack time – 20 microseconds to 800 microseconds
•New "No Ratio" or Attack "Off" provides popular amplifier-only mode Input and Output amplifier distortion
•All multi-button ratio combinations now available — including famous "All-Buttons"
More information on the 1176 Classic Limiter Plug-In Collection here:
http://www.uaudio.com/1176-collection.html .
UAD Software v6.2 is available as a FREE download for Mac and PC users worldwide:
www.uaudio.com/support/uad/downloads .
VIDEO: