UNIVERS SONS Announces Emulation II virtual instrument
Paris, France (MuseWire) – Emulation II features a set of unique instruments to reproduce that typical music from the 80s: from warm digital sounds to the most analog-ish textures. Sounds were recorded and carefully selected from the authentic restored instrument, with the very best analog and digital gear. This process allows preserving the original sounds' lo-fi charm.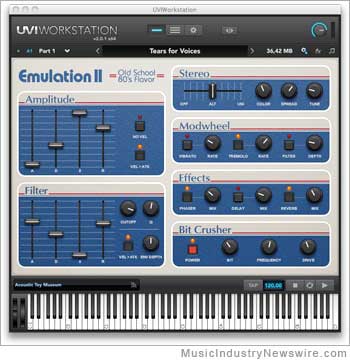 According to the company, "We are pleased to launch today Emulation II, the digital version of the ultimate must-have sampler in the 80s. Still in love with Depeche Mode, Peter Gabriel, Pet Shop Boys, New Order, Jean-Michel Jarre, Stevie Wonder, Genesis, Paul McCartney, Enya, Vangelis, John Carpenter's soundtracks styles? Emulation II is for you."
SOUNDS
Hundreds of sounds and instruments among the best are included: drums, bass, bells, choir-voices, fretted instruments, FXs, keyboards, mallets, percussion, synths, strings, orchestral hits and a lot more.
INTERFACE
A simple, yet, complete user interface reproduces the looks and feeling of the most famous and essential machine from the eighties.
COMPATIBILITY
Compatible with UVI Workstation 2, Emulation II can work:
– as a stand-alone instrument, compatible with Mac & PC
– as a VST, AudioUnit, RTAS and MAS plug-in. iLok required.
Compatible with MachFive 3
DRUMULATION
Drumulation included: an utter beatbox with step sequencer from the 80s, loaded with 500+ drums and percussion sounds.
Info: http://blog.uvi.net/sounds-instruments/emulation-ii-launch-new/ .
VIDEO: