Ultimate Music Desk: Music Computing Releases Waterproof Bullet-Resistant Touch Screens and Interactive Tables
AUSTIN, Texas (MuseWire) – Liquids, bullets and electronics usually don't mix, but you never know these days. The latest additions to the MotionCOMMAND(TM) line of multi-touch products from Music Computing can take the hit and keep on making hits. Released today are waterproof MotionCOMMAND FRAMES that can instantly turn any video monitor into a multi-touchscreen.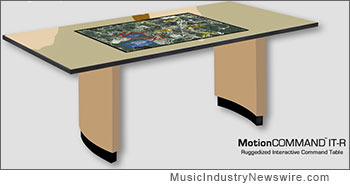 Available sizes are: 32″, 42″, 55″, and 65″, with standard options for 2 or 4 simultaneous touches or up to 40 per special order. In addition to being water and dust proof, it's now possible to configure the MotionCOMMAND FRAMES with bullet resistant glass, offering protection levels from 1 to 8. While most people may never use them as shields against bullets, this version is perfect for clubs, restaurant and outdoor use, where the environment may be more hazardous for large pieces of glass than normal.
Along with the release of the new MotionCOMMAND FRAMES, are the new MotionCOMMAND Interactive Tables. The MotionCOMMAND IT and MotionCOMMAND IT-R are designed for use in offices, tradeshows, restaurants, bars and clubs. Available in three different sizes of touchscreens, the 32″, 42″ and 65″ models are all waterproof and come in a conference style table with curved platform legs. As with the MotionCOMMAND screen, the table top can also be equipped with up to 1/2″ thick armor plating providing up to a level 8 protection standard.
Updating the company's MotionCOMMAND ClearVIEW transparent touchscreens are also new waterproof models, which are more suited for use in real-world situations where liquids often come in contact with the touch surface and the DJ as well.
"I was asked to design touchscreen products for the military and it seemed like they would be well suited for civilian use also," said Victor Wong, CEO, Music Computing. "I've performed in bars and clubs all my life and I've seen some brawls, it's not a war zone, but they get awfully close."
The new bullet resistant models are designed to withstand gun shots up to the designed protection level and continue to function, including video image and touch sensing. Optional built-in computers running Windows 7, Mac OS X or Linux is available. All new models utilize razor sharp LED HDTVs and have a 1080p (1920 x 1080) resolution. Connections included are: VGA (PC), Component, and HDMI. All models are equipped with auto-switching power supplies for world-wide use.
Pricing for the new MotionCOMMAND FRAMES start at $1,329 with the MotionCOMMAND IT models starting from $4,599 and the MotionCOMMAND ClearVIEW starting from $2,699.
For complete information and to view products available for order and shipment please visit: http://www.musiccomputing.com .