UBTunes – Not Your Kid's Music Store Anymore
SWANZEY, N.H. — UrbanBoomer, the online entertainment and social networking site targeting the 35-60 demographic, announced the launch of its digital music download store UBTunes. The site, www.ubtunes.com is aesthetically appealing, more reminiscent of a neighborhood record store with browse features for a host of sub-genres such as 60's Soul, Lounge and Exotica, Jazz, 70's Rock, etc. and has colorful, informative and easy to read graphics. Price wise, UBTunes offers lower prices than most top level content download sites with an 88 cent song price and many frontline albums at discounted prices.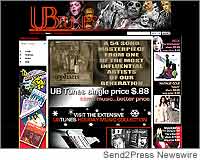 UBTunes has no subscription fees or membership requirements and offers encrypted WMA files, compatible with a vast majority of the MP3 storage devices including the ZUNE (R), SanDisk(R) and Cingular Blackjack(R). The site is easy to navigate and uses a simple, secure e-commerce system making purchases safe and hassle free. UBTunes offers an electronic gift card system that makes sending a gift card easy and very affordable with a 10 download e-card selling for $8.80 and similar discounts on 25 and 50 download gift cards.
The site is powered by Neurotic Media, Inc. an industry leader for redemption campaigns for companies as diverse as McDonalds, Coca-Cola, Pepsi and Disney. UBTunes and UrbanBoomer are staffed by a group of music industry professionals with experience in promotion/marketing, artist development, sales, graphic design, label relations and retail. The management team at UBTunes/UrbanBoomer has a combined 150+ years experience in the music industry.
The catalog of music is extensive but is selected to represent a more "seasoned" music buyer so much of the music that appeals to today's 12-24 buyer has been removed from the fore front of the site. "We have made a concerted effort to build a download site that appeals to an older demographic in direct opposition to the major players who cater to younger music buyers both in the music we select and how we present the music to our customers," President and Founder Bill Hurley noted.
The site is launching with a promotion to give away 1 ZUNE(R) Player loaded with 250 songs picked by the editors of UBTunes chosen from any genre the site offers along with downloads of The Doors – Perception 90 track Box-Set and Tom Waits – Orphans 54 track Box Set as secondary prizes. Winners will be chosen randomly from entries received on the UBTunes website.
More information: www.ubtunes.com
[tags]UrbanBoomer, UBTunes music store, baby boomer music[/tags]