TrueFire Announces 'Geek Guitar' Interactive Video Course
Course Covers Recording, Performance, and Notation Technology for Guitarists
ST. PETERSBURG, Fla. — TrueFire.com, a leading provider of online guitar lessons and interactive courses, is now shipping Marc Schonbrun's Geek Guitar, an interactive video course designed to bring the latest technology to guitarists for recording and performing.
Geek Guitar successfully bridges the gap between computer technology and the modern guitar player with a comprehensive series of plain-language tutorials covering recording, notation and live performance technologies interpreted for guitarists. Technology expert and guitarist Marc Schonbrun reveals the process of recording into a computer (with and without MIDI), tapping into thousands of effects and amp simulations, laying down other instrument tracks, layering in loops, editing, and mixing to create professional sounding songs, all with a single guitar.
"Guitar players: I know that technology has been bad to you in the past, especially MIDI guitar." said author Marc Schonbrun. "With this course, I will show you just how much things have changed and how easy it is to use technology, and take your music to new places."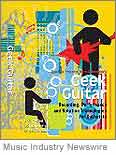 Geek Guitar covers the notation (in tab and standard notation) of riffs, progressions, songs or full-blown compositions with easy-to-use software for professional results. Also introduced are performance technologies that will allow guitarists to have every conceivable tone, effect, amp and cabinet simulation at their fingertips for rehearsals and gigs ­ all within a laptop computer.
Geek Guitar covers some of the best solutions for both PC and Mac: Sonar Home Studio – a complete Audio/MIDI recording application for Windows XP; GarageBand ­ a complete Audio/MIDI recording application for OS X; Sibelius G7 ­ tab, notation and publishing solution for Windows XP and OSX; Roland GI-20 ­ converts guitar signal to MIDI through USB; Guitar Rig 2 ­ the ultimate computer based effects and modeling solution; and Brian Moore's iGuitar ­ optimized for USB and MIDI connections. The course also shows you how to get great results out of the guitar you already own (it does not have to be a special MIDI guitar).
Pricing and Availability:
Geek Guitar comes as 4 CD-ROM set for Mac and PC for $75 USD. The course ships as a cross-platform PDF manual with interactive video playable on any computer. Video and audio examples and ordering information is available online at http://truefire.com/geekguitar/geekguitar.html.
About the Author
Marc Schonbrun is a musician, author, educator, and engineer. He is actively involved with recording and music technology, as well as working with the leaders in music software as a clinician and lecturer. Marc is the author of bestselling The Everything Rock and Blues Guitar Book, The Everything Reading Music Book and The Everything Home Recording Book.
Schonbrun has most recently completed The Everything Guitar Chord Book, The Everything Music Theory Book, Digital Guitar Power, and recently finished work the second edition of his self published The Efficient Guitarist. He is endorsed by Godin Guitars, D'Addario Strings, Planet Waves, Flite Sound Speakers, and is a professional training specialist for Native Instruments, Korg USA and Sibelius USA.
More at http://www.marcschonbrun.com.
[tags]Marc Schonbrun, Geek Guitar video course, MIDI guitar, TrueFire online guitar lessons[/tags]