Toontrack announce N.Y. VOL.2 Presets – Neil Dorfsman – Companion to New York Studios Vol.2 SDX for Superior Drummer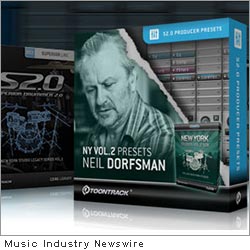 MuseWire NEWS: Toontrack today announced a new preset library for its popular drum sample virtual instruments, Superior Drummer 2.0: N.Y. VOL.2 PRESETS – NEIL DORFSMAN. The company describes it like so: "In this pack Neil gives you five fine examples of exactly how great, unique and diverse one can get a quality drum recording like the New York Studios Vol.2 SDX to sound…if you're a producer/engineer with some of the world's best selling albums on your resume, that is."
Neil Dorfsman is not only one of the masterminds behind the sounds in EZdrummer, Superior Drummer and the New York Studios Vol.2 SDX, he is also a world-renowned producer and engineer.
During his successful career spanning over more than three decades, Neil has worked with some of the greatest artists of all time and put his unmistakable sonic seal on albums like Bruce Springsteen's "The River", Dire Straits' "Brothers in Arms" and Sting's "?…Nothing Like the Sun?."
This set of sound presets makes the New York Studios Vol.2 library sound even better. Nicely priced at $15 through the Toontrak website. More: http://www.toontrack.com/products.asp#S20PP .