Toontrack and Platinum Samples announce 'Joe Barresi Evil Drums' for Superior Drummer 2.0
For the first time since the start of the company Toontrack Music have agreed to allow a 3rd party producer to independently produce and sell an audio expansion for a Toontrack software platform.
Platinum Samples are one of the worlds leading producers of sampled drums, and quoting Toontrack Music CEO Andreas Sundgren, "Their products are cutting edge recordings. We are excited about and are looking forward to a long term collaboration with Platinum Samples"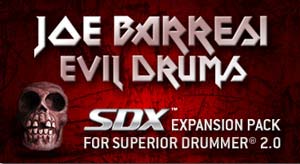 Platinum Samples owner, Shivaun O'Brien says "The symbiotic relationship of our samples with Toontracks' drum software is very exciting and we're honored. This collaboration is a natural extension of both Toontrack Music and Platinum Samples' product lines, and we look forward to a long and rewarding relationship."
The first joint release, planned for Q4 2009, is the well-known title "Joe Barresi Evil Drums" as an SDX expansion pack for Superior Drummer 2.0.
About Toontrack Music
Toontrack Music is the world's premier developer of percussive virtual instruments, with an unrivaled line of drum and percussion tools for playing, composing, and producing in Digital Audio Workstations.
About Platinum Samples
Platinum Samples has over 30 years of experience in the recording industry and have garnered acclaim for their Master Engineer series of drum samples recorded by multi-platinum awarded producer/engineers.