Tom Oberheim announces new legendary analog synth: Son of 4 Voice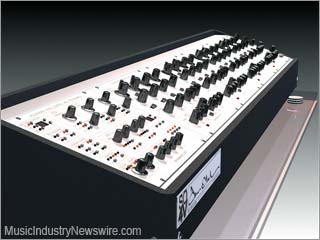 MORAGA, Calif. (MuseWire) – Synth legend Tom Oberheim has announced two new additions to his line of resurrected SEM analog synthesizers: First, the SEM-PRO, incorporating 21 mini-jacks for signal access; and second, the quite awesome SO4V (Son of 4 Voice). Many of us have been waiting for such a product with the SO4V since the new SEM was revealed a couple of years back, and the return of the vintage '70s design is all that we could have wanted.
SON OF 4 VOICE's SEMs bring back vintage '70s design: 100 percent discrete analog, absolutely no custom chips. SO4V can be used as a 4-voice polyphonic synth or as 4 individual synths under MIDI control. Two SO4Vs can be ganged together to create an 8-voice.
The Polyphonic Voice Control and Programmer section retains all the features of the original Four Voice Programmer and Keyboard control modules, while adding gotta-have-'em goodies like these:
• Two MIDI sync capable LFOs with multiple waveshapes including sample and hold per voice •Two programmable ADSR envelope generators per voice • Selectable master tuning (both VCOs or VCO2 only) allows easy detuning for huge unison sounds • Polyphonic portamento with linear or exponential response • Noise generator connected to filter input #1 • External audio or A440 tuning reference connected to filter input #2 • Updated output module with mix and pan control for each voice
Each SO4V is equipped with a Tom Oberheim signature plate.
Specifications subject to change.
SO4V availability: May/June 2011 / Price: $3,495.