To Celebrate Bob Moog's Birthday, Spectrasonics expands Bob Moog Tribute Library sound pack for Omnisphere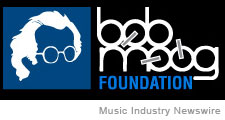 BURBANK, Calif. (MuseWire) – Celebrating Bob Moog's 78th birthday today, Spectrasonics has announced a free update to the Bob Moog Tribute Library for Omnisphere, with 78 new patches. With these new patches by Eric Persing, the library now features "over 800 stunning sounds for Omnisphere," according to the company.
Existing Moog Tribute Library customers can download the v1.1 patch update. If you don't have the Bob Moog Tribute Library yet, it's available now for $100 with all proceeds going to the Bob Moog Foundation.
The Bob Moog Foundation is an independent, donor-driven 501(c)(3) non-profit organization which honors the legacy of synthesizer pioneer Bob Moog through its mission of igniting creativity at the intersection of music, history, science, and innovation. They are making a wonderful impact on the next generation of electronic musicians.
More information: http://www.spectrasonics.net/products/tribute/ .