TEQSAS to Show New Dante Module for their cyberTEQ–m–Family of Digital Audio Solutions at PL+S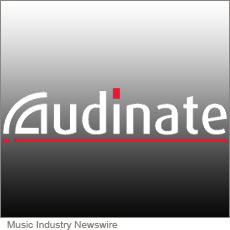 PORTLAND, Ore. (MuseWire) – Audinate, inventor of the award winning Dante networking technology and TEQSAS, a leading German professional audio solutions company with core competencies in delivering high quality audio products, are pleased to announce a new Dante AES breakout module for their cyberTEQ – m-family of digital audio interconnect solutions.
yberTEQ – m is a distribution system that uses IEEE 802.3 Gigabit-Ethernet as backbone. By using only one connection between two cyberTEQ – m-mainframes nearly all signals used in the event technique can be transmitted simultaneously. Due to the dedication of converter modules, the link between the Ethernet and these signals are realized.
Audinate is leading the way networks are connected by transporting high-quality media over standard IT networks. Its Dante products deliver a no-hassle, self-configuring, true plug-and-play digital audio network that uses standard Internet Protocols. Dante offers a market leading solution today, while de-risking the future by providing a migration path to upgrade to new standards such as the IEEE Audio Video Bridging ("AVB").
"The partnership with Audinate now gives us the ability to implement Dante in our product offerings." remarks Rainer Laschet, Technical Director of TEQSAS. "Integrating high quality audio over IP networking fits well with the many other IP standards based communication modules we offer. Our Dante enabled module for the cyberTEQ m , allows for a completely unified signal distribution system."
Kieran Walsh, Senior Technology Solutions Manager for Audinate adds, "Having worked with TEQSAS over the years, I am pleased that Audinate and Teqsas have a licensing agreement. Dante's high quality media networking coupled with TEQSAS ' proven expertise in the Touring and Broadcast markets, not to mention the high quality engineering expertise that they bring to all their audio solutions, makes this a strong collaboration."
For more information please stop by Hall 8.0 / B19 at Prolight+Sound Frankfurt
###
About Audinate
Audinate revolutionizes the way that AV systems are connected by transporting high-quality media over standard IT networks. Using Audinate's patented Dante networking solution, digital media networking just got easy. Audinate's solution has been licensed by customers across the AV industry and can be found in installations and live sound applications globally. Audinate is a Promoter Member of the AVnu Alliance™. Audinate offices are located in US, United Kingdom and Australia. Dante is a trademark of Audinate Pty Ltd. Visit www.audinate.comfor the latest news and information on the company.
Audinate is a registered trademark of Audinate Pty Ltd.
About TEQSAS
TEQSAS is a German based company. TEQSAS is distributor for Yamaha, L-Acoustics, Shure, Sennheiser and other pro audio brands. Knowing the demands of audio professionals very well TEQSAS provides service and maintenance for pro audio products. The portfolio is completed by TEQSAS products like cyberTEQ , RECO Tracker (a multitrack recording and DAW system) or LAP-TEQ (Inclinometer for precise positioning of Line Arrays).