Teen Rapper with Positive Messages, Baby Jay, to headline Texas Back to School Event
HOUSTON, Texas (MuseWire) – Houston-based teen rapper Baby Jay has been invited for a second time to perform at Fort Hood for their "Teen Back to School Bash & Carnival," Roland Entertainment announced this week. Baby Jay has been creating a new movement in the hip-hop/rap industry and continues to make a positive impact in the lives of hundreds of thousands of youth throughout the country. The event is presented by The U.S. Army Child, Youth & School Services in partnership with The USO.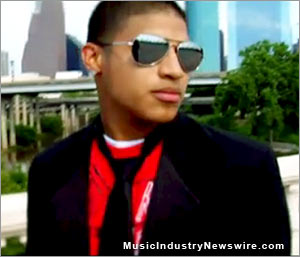 Baby Jay has been performing professionally mostly in schools since the age of 14 and has some great accomplishments in six years with the support of fans, friends and his manager, Rolando Cuellar of Roland Entertainment (RolandEntertainment.com).
Baby Jay will headline the event for teens from the Fort Hood community (Killeen, Copperas Cove, Harker Heights, Belton) at Bronco Youth Center. The audience will get to hear new unreleased songs from his anticipated sophomore CD "LUV & RESPECT" coming 2012 and also songs from his first CD "Keepin It Real."
Some of his accolades include becoming the first rapper – and youngest – to receive the key to the city of Houston, three official city proclamations "Baby Jay Day," a certificate of special congressional recognition, officially inducted into the Latin Grammys tour bus exhibit and received a "World Peace Award" as a gift from Peter Yarrow from the legendary group "Peter, Paul, & Mary."
His debut CD "Keepin It Real," which was released in 2007, is fulfilling its purpose which is to provide youth, educators, administrators and parents with songs about non-violence, teen pregnancy, saying no to drugs, inspirational, staying in school, relationships and the first ever anti-bullying rap song/DVD "Don't Laugh at Me" implemented in thousands of schools across the country!
Baby Jay has opened up for acts like Raven Symone from the TV show "That's So Raven," B5, Omarion, Coolio, Young MC, Soulja Boy and Twista – to name a few! In 2010 and 2011, Baby Jay continued to perform and make special appearances including his debut college performance at Dartmouth College and his latest 9th New York School tour on May 23, 2011 – with many more performances to come and an innovative anticipated sophomore CD "LUV & RESPECT" coming early 2012.
More information at: http://www.Baby-Jay.com .
VIDEO: