TC Electronic Announce their Ultimate High-gain Guitar Pedal: Rottweiler Distortion
Risskov, Denmark (MuseWire) – From classic power metal over ultra-tight thrash riffs to a complete riot of unleashed power, this pedal is the ultimate one-stop station for all things heavy! TC Electronic's Rottweiler Distortion goes the extra mile and delivers an unparalleled sound that will inspire any hard rock and metal guitarist to be shredding and riffing for days.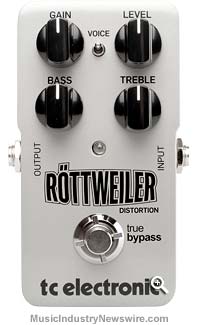 In fact, Rottweiler Distortion has been designed specifically to capture the tone and true feel of raw power that only a high-gain tube amp used to be able to deliver. The all-analog design features a unique distortion circuit based on soft clipping – just like real tube amps – for an extremely authentic response and tone. Now, it's possible to get that bone-crushing sound through virtually any amp by hooking up a Rottweiler Distortion.
Rottweiler Distortion is voiced to burn through any mix. A classic stompbox problem in this hardcore setting is a tendency to get 'lost in the mix'. Typically, these pedals sound great on their own, but once the band starts playing, they become less convincing. This is not the case with Rottweiler Distortion as it has been designed with live performances in mind – not just for home practicing!
Whether the ideal is power metal or tight-chugging thrash, Rottweiler will deliver at the flick of a switch. The 'Voice' toggle switch allows for choosing between two midrange voicings, instantly going from classic hard rock to full-on death metal. Also, the two tone controls, Treble and Bass, let users fine-tune their guitar tone to whatever their needs and wants might be in a matter of seconds.
Rottweiler Distortion – More Is More! Available: November, 2011. Price: US$129 MSRP.
VIDEO: