StudioBLADE keyboard production station for Mac OS X announced by Music Computing
AUSTIN, Texas (MuseWire) – Music Computing, the makers of all-in-one keyboard production stations and multi-touch touchscreens, announced today it has released a Mac OS X compatible version of the StudioBLADE keyboard production station. StudioBLADEs are all-in-one music production stations complete with piano keys, drum trigger pads, knobs, sliders, thousands of sound presets and software for live and studio use. They allow users to compose, record, mix, and master songs that are ready for radio or direct Internet distribution.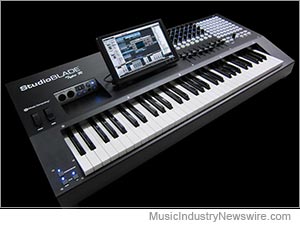 The new models of StudioBLADEs are powered by high-performance Mac Mini computers utilizing Intel Core i-series latest-generation processors that are perfect for today's demanding musicians and the virtual instruments and software application they use. Options include i5 and i7 dual and quad core versions. The Mac OS X operating system is perfect for music production and can run virtually any software application or plug-in. Capable of running over 500 plug-ins at once, sequencing thousands of tracks simultaneously, and storing millions of sound presets, the StudioBLADE packs a serious punch for the money.
StudioBLADEs are available in 61-key and an 88-key versions, perfect for live or studio use. The keys are velocity-sensitive, semi-weighted action, and are professional in feel and ultra-roadworthy. Pitch and Mod wheels as well as octave up and down buttons with indicators are also included.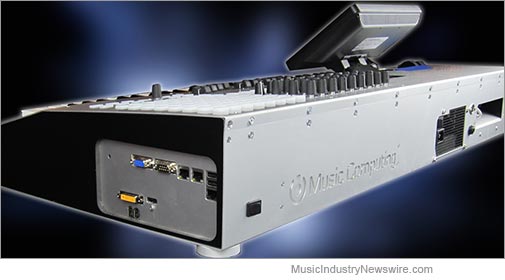 StudioBLADEs all come with built-in Wi-Fi as well as Bluetooth and even Thunderbolt.
StudioBLADEs are equipped with a built-in telescoping and tiling 10″ touch screen that adjusts to your desired viewing angle, making it extremely ergonomic to use. StudioBLADEs also provide one (1) additional external video ports so the user can run up to two (2) monitors simultaneously in cloned or extended desktop mode.
The standard configuration for StudioBLADEs include a 24bit-48 kHz audio I/O with two (2) combo XLR & 1/4-inch mic/instrument 48V phantom power inputs, two (2) balanced outputs and a stereo headphone jack. The optional upgrade gives you a 24bit-96 kHz audio I/O with two (2) combo XLR & 1/4-inch mic/instrument 48V phantom power inputs, six (6) 1/4-inch balanced inputs (line-level), two balanced outputs and a stereo headphone jack.
Built into each StudioBLADE are Music Computing's ControlDAW midi controller and GeoMIDI midi mapping software. ControlDaw presents the user with four (4) banks of eight (8) plus one (1) master channel strips each with three (3) mappable encoders with LED indicator light rings, one (1) knobs for panning, solo and mute buttons and a high-quality fader. An 8X8 grid of lighted pads (64 total) is also provided that can be used as drum trigger pads, a Monome (with appropriate software) or as a trigger pad for sequences, etc. Controls for note-repeat enabled software and transport buttons are included as well as real-time feedback between the controllers and software making ControlDAW the ultimate midi controller for music production.
"We have received numerous request for a Mac OS X compatible StudioBLADE," said Victor Wong, CEO of Music Computing, "We are happy to be able to give the people what they want."
Each StudioBLADE is preinstalled with Music Computing's SonicSOURCE vst containing thousands of sounds as well as Studio One Artist (DAW), which also includes thousands of sounds and effect. For those who would like to clone their hardware keyboards and sound modules, third-party software can be installed and used in the StudioBLADE.
Prices start at $3,999 and complete information can be found at: http://www.musiccomputing.com