StudioBLADE Generation 3 Music Workstations launched with 22-inch LED Multi-Touchscreen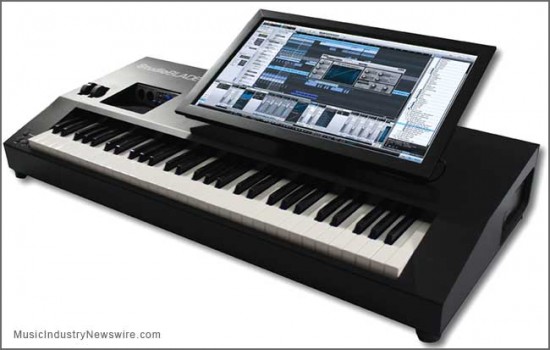 AUSTIN, Texas (MuseWire) – Music Computing, the makers of the StudioBLADE line of all-in-one music keyboard production stations announced today the Gen3 versions, which represents another leap in performance and value. The StudioBLADE Gen3 is all-in-one music production command and control center, which allow users to compose; record, mix, and master songs that are ready for radio or direct Internet distribution.
New for the Gen3 models is the addition of a crystal clear 22-inch LED multi-touchscreen. Utilizing recent advancements in touch technologies, Music Computing has been able increase the accuracy and lower the latency to its touchscreen products, which can now be used effectively with all music applications and plugins. As a bonus, the touchscreen can be detached to be used as a standalone controller.
For those requiring physical midi controllers in their setup, Music Computing is offering a choice of the Akai MPD26 or the Akai APC20 to be included free of charge with the purchase of a StudioBLADE. In addition, it is also offering upgrade options for most other popular midi controllers at a discounted price.
New SSD option are now available for all models, further increasing the performance of the StudioBLADE models.
StudioBLADEs (Gen3) are powered by high-performance computer cores utilizing Intel® Xeon® mission-critical server platform processors that are perfect for today's demanding musicians and the virtual instruments and software application they use. Options include dual 6-core processors totaling 12-cores, up to 192GB of RAM, and up to 6TB of hard drive storage. The Windows 7 Professional (64-bit) operating system is preconfigured for music production and can run virtually any software application or plug-in. Capable of running over 3,000 plug-ins at once, sequencing thousands of tracks simultaneously, and storing millions of sound presets, the StudioBLADE (Gen3) is by far the highest performance keyboard available today.
The first truly scalable music production tool, StudioBLADE provides the user with what they need, when they need it. This means the user can start with the base configuration with a single processor, one memory module and one hard drive, and add more as they need it. The company calls this the Goldilocks Principle and is designed to allow the keyboard to grow with the user.
"With the Gen2 models we proved we can produce the de-facto most powerful keyboard production stations in the world," said Victor Wong, CEO, Music Computing. "The new Gen3 model builds upon that to provide unparalleled usability, tailored for today's musician."
StudioBLADEs (Gen2) are available in 61-key and an 88-key as well as Windows 7 and Mac OS X versions, perfect for live or studio use. The keys are velocity-sensitive, semi-weighted action, and are professional in feel and ultra-roadworthy. Pitch and Mod wheels as well as octave up and down buttons with indicators are also included, with prices start at: $3,999
Complete StudioBLADE information and images: www.musiccomputing.com/studioblade .
VIDEO: