Stewart Audio announces technology licensing agreement with Audinate PTY, LTD for compact Networked Amplifiers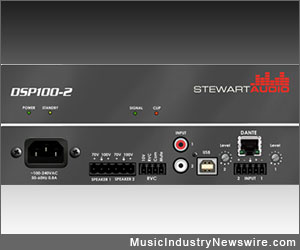 SILICON VALLEY, Calif. (MuseWire) – Stewart Audio, an innovator in small, compact Networked Amplifiers is pleased to announce a technology licensing agreement with Audinate PTY, LTD the inventors of Dante™ the award winning, digital media networking solution. Stewart Audio will be one of the first licensees to offer a Dante Ultimo™ solution in their line of subcompact and half rack DSP powered amplifiers in Q2 of this year.
Sean O'Malley, President of Stewart Audio stated "We are excited to be working with Audinate as we continue to reposition Stewart Audio as a network centric manufacture of power amplifiers and network accessories. As the AV ecosystem continues to evolve towards the network, our customers require end point products which operate with the increasing popular Dante protocol from Audinate."
Stewart Audio's product line of Dante enabled amplifiers will span 1-4 channel counts, both low impedance and 70V/100V and up to 320W per channel. Package sizes will consist of subcompact to half rack, all convection cooled and Made in the USA.
"Stewart Audio is developing a great line of innovative network amplifier products, and we welcome them as one our first Ultimo licensees." Says Dave Anderson, Audinate's Director of Sales. Anderson adds, "We are pleased to work with Stewart Audio in providing Dante as a complete networking solution for its industry-leading products."