Soundsnap: Thousands of Free Sounds at Your Fingertips
New website for sharing free samples, sound effects and music loops
ATHENS, Greece — Soundsnap is a new online platform for finding and sharing free samples, sound effects and music loops. Designed as a resource and community for musicians, sound designers, producers, film makers and web/video game developers, Soundsnap provides user driven content for use in virtually any kind of media production. Users can freely download and upload content to be legally shared and used in any media project.
"We like to think of Soundsnap as 'YouTube for sounds" where users not only download sounds for their own use, but submit their sounds and help the library grow organically," said Tasos Frantzolas, creator of Soundsnap.com. "Free, on-demand, and publicly available audio clips and samples encourage experimentation and creation and makes for better audio within any kind of project."
Soundsnap launches with 30,000 available free sounds ranging 'from high quality music loops and music samples, sound effects such as animals, industrial, nature, sports, and human, to sound design, sound art, comic, unreal, and science fiction. Visitors can search for sounds by keyword searching or browsing by category, user/creator, or tags, which are user generated keywords used to place sounds into categories.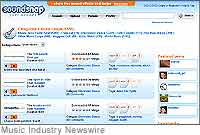 Soundsnap allows only original samples and sounds that have been recorded or created by contributors that have accepted Soundsnap's license agreement. This ensures that previously copyrighted material is not downloaded, distributed, and used illegally. Contributors to Soundsnap retain all ownership rights to submissions while granting SoundSnap a worldwide, non-exclusive, royalty-free, transferable sublicense.
In many ways, Soundsnap is part of the "web 2.0" generation of websites, which is characterized by user submitted content, social networking and clean, user friendly interface. Its creators have been inspired by YouTube, Flickr and Wikipedia in order to create the same sharing environment and apply it to music creation and sound design.
Soundsnap launched for the public on July 2, 2007.
Visit http://www.soundsnap.com.
About the creator of Soundsnap
The creator of Soundsnap, Tasos Frantzolas, is a 25 year old sound designer and producer from Greece. He has lived in London, UK, for the last 5 years, releasing his own music and doing sound and music for short films and videogames, before returning to Greece. He started Soundsnap in order to fulfill a need for a library of high quality, on-demand free sounds. He gathered a talented team of contributing sound designers, producers, web designers and developers to start the Soundsnap community.
[tags]Soundsnap social network, Tasos Frantzolas, sharing free music loops, free acid loops, on-demand free sounds, royalty free sounds[/tags]