SoundExchange Ends Record-Setting Year with $462 Million in Total Distributions for 2012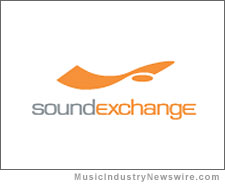 WASHINGTON, D.C. (MuseWire) – SoundExchange today announced a new record with total year-end royalty payments reaching approximately $462 million (up 58 percent from the prior year) for 2012. Fourth quarter 2012 distribution also increased with more than 22,000 payments totaling approximately $134.9 million, a nearly 10 percent increase from its Q3 2012 distribution of $122.5 million.
The royalties are paid by Internet radio, satellite radio and cable radio services for their performance of sound recordings, and are distributed by SoundExchange to recording artists and record labels.
"SoundExchange's increasing annual royalty payments are a positive indication of where the industry is heading. As digital radio continues to grow, so should the amount that performing artists and rights owners receive for the use of their content," said SoundExchange President Michael Huppe. "Our distribution represents another record-breaking year for SoundExchange, but more importantly, it means more money in the pockets of the creators of music. We're optimistic about the industry's future, and look forward to maximizing digital performance royalties for the people we serve and finding new ways to propel the music industry forward."
Also in 2012, SoundExchange made several significant organizational enhancements and accomplishments, including:
•Announced more than $1 billion in royalties paid to the creators of music since the organization's inception.
•Reached thousands of artists and record labels through ongoing outreach as well as several high-profile and effective database matches with partner organizations such as BandPage, CD Baby, American Federation of Musicians (AFM) and The AFM and AFTRA Intellectual Property Rights Distribution Fund ("The AFM and AFTRA Fund").
•Launched a new online platform to streamline registration and membership process, resulting in the registration of more than more than 15,000 new artists, labels and rights holders in 2012.
•Created a dedicated International department, and signed 10 new agreements for the exchange of royalties with foreign counterparts.
•Increased capacities for processing royalty data and payments through technical overhaul that will continue throughout 2013.
SoundExchange maintains one of the lowest administrative rates in the industry, with an administration rate of 5.3 percent in 2011. (Note: 2012 admin figures are not final as payments are still being received.)