Sound Forge 9 Professional Digital Audio Production Suite Released
MADISON, Wis. — Sony Creative Software announced today the release of Sound Forge 9 Professional Digital Audio Production Suite. Sound Forge 9 new features include multichannel file recording, editing and processing, phase scope metering, and Dolby(R) Digital AC-3 export.
The Sound Forge 9 professional digital audio production suite includes everything you need to quickly get from raw audio to finished master. Use this suite to create and edit stereo, and now, multichannel audio files with speed and precision, expertly analyze, record and edit audio, digitize and restore old recordings, model acoustic environments, design sound for multimedia, and master replication-ready CDs.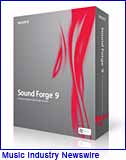 What makes Sound Forge 9 software a full-featured production suite? It now includes CD Architect(TM) 5 software, Noise Reduction 2 plug-ins, and Mastering Effects Bundle powered by iZotope(TM) — a $700 value!
New in Sound Forge 9 software:
New! Multichannel audio recording, file editing and processing
New! Phase and mono-compatibility meters
New! Channel converter for multichannel files
New! Multichannel capable Spectrum Analysis(TM) tools
New! Wet/dry mix and crossfade options for effects
New! Drag-and-drop editing between channels
New! Gracenote(R) MusicID(TM) technology
New! Access to Sony Music Studios Internet Mastering
New! Dolby(R) Digital AC-3 export
New! Multichannel Windows Media(R) format support
New! Microsoft(R) Windows(R) Vista(TM) Compatible
Upgrades for existing registered owners of SF8 are $99.95. US SRP is $149.95.
More information:
http://www.sonycreativesoftware.com/products/product.asp?PID=431
[tags]Sony Creative Software, Sound Forge 9, digital audio production, multichannel file recording, Dolby digital encoding[/tags]