Sony Licenses iZotope Mastering Technology
Sound Forge 9 Professional Digital Audio Production Suite incorporates Mastering Reverb, Multiband Compressor, IRC Limiter, and Analog EQ powered by iZotope
CAMBRIDGE, Mass. — IZOTOPE, INC. today announced that it has licensed mastering technology to Sony Creative Software for the latest version of the Sound Forge 9 professional digital audio production suite. Sound Forge 9 is now available.
"With every release of Sound Forge 9, Sony Creative Software aims to improve the production process for digital audio artists," said Dave Chaimson, Vice President of Marketing for Sony Creative Software. "The Mastering Effects Bundle powered by iZotope allows Sound Forge 9 users to leverage iZotope's mastering expertise within the software, further solidifying Sound Forge's position as the tool of choice for audio professionals."
The Mastering Effects Bundle powered by iZotope features the highest quality audio algorithms available. It includes the Mastering Reverb, Multiband Compressor, IRC Limiter Loudness Maximizer and Analog EQ Parametric Equalizer plug-ins.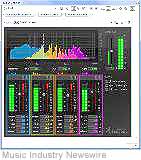 Four essential mastering tools that incorporate iZotope's pristine 64-bit processing, high quality algorithms, and immersive user interfaces are featured in the Mastering Effects Bundle. The Mastering Reverb can add a consistent sense of depth and space to a mix. The Multiband Compressor provides up to 4 bands of limiting, compression and expansion with real-time visualization of the dynamics within each band. The IRC Limiter Loudness Maximizer allows users to create an overall louder or fuller master by limiting the dynamic range and boosting the perceived overall level of the mix. The Analog EQ Parametric Equalizer combines 6 bands of adjustable bell filters and low/high shelf filters with analog modeling.
"Sony and Sound Forge have long been relied upon by the top production talent in the music industry," said Mark Ethier, CEO of iZotope, Inc. "By combining iZotope's expertise and success in mastering technology with that of Sony's, Sound Forge 9 provides the quality audio professionals demand in modern media production. "
For more than a decade, audio professionals have turned to Sound Forge software for recording and editing. Today, the Sound Forge professional digital audio production suite includes everything needed to get from raw audio to finished master with speed and precision. With it, users can efficiently analyze, record, and edit audio, digitize and restore old recordings, model acoustic environments, design sound for multimedia and master replication-ready CDs.
Pricing and Availability
Sound Forge 9 software which includes the Mastering Effects Bundle powered by iZotope is now available worldwide through software stores and online retailers for US $399.95 (List Price). More information on the Sound Forge family of products and the entire line of Sony Creative Software applications can be found at http://www.sonycreativesoftware.com.
About Sony Creative Software
Sony Creative Software inspires artistic expression with its award-winning line of products for digital video, music, DVD, and audio production. As a subsidiary of Sony Corporation of America , the company also develops applications that enhance the experience for users of Sony hardware devices. Sony Creative Software customers span the globe and include seasoned professionals in the film, television, video game, and recording industries, as well as students, educators, hobbyists, and enthusiasts. For more information, visit http://www.sonycreativesoftware.com.
About iZotope, Inc.
iZotope is a research-driven audio software company based in Boston, Massachusetts. Its products and audio technology are used by millions of people in over 50 countries, from hobbyist musicians to GRAMMY(R) Award winners. iZotope focuses on developing innovative audio technology for professional and consumer applications. This core technology is presented to customers in its award-winning product line and through its extensive licensing program.
[tags]iZotope Inc, Sony Creative Software, mastering suite, Sound Forge 9, audio software company, Loudness Maximizer, digital audio artists[/tags]