Sony Creative announces Sound Forge Pro for Mac OS X
MIDDLETON, Wisc. (MuseWire) – Sony Creative Software have announced their venerable sound editing tool, Sound Forge Pro, will very soon be coming to Apple's OS X platform. As the company describes it, the product has been "re-thought, re-imagined and re-invented" presumably for the Mac userbase and more audio-friendly aspects of Apple's platform (issues with Mountain Lion and Thunderbolt not withstanding, of course).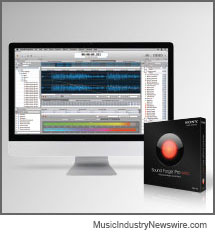 We expect the OS X version to continue the superb feature base of the Windows edition, including support of full resolution 24-bit/32-bit 192 kHz files for the ultimate in audio fidelity. Since the Windows version has excellent time stretching support, video support and tools specifically tailored to conforming audio for video, we expect those to carry over.
We don't know yet if the iZotope plug-ins will also be included, but since they are cross-platform in the full versions, it's presumed they will also be included as their "lite" versions with OS X as they are with the Windows iteration.
The Windows version sells for about $399, and I wouldn't be surprised if Sony launches the Mac version for less than that (perhaps $299?), to get some mindshare from Mac users.
Sony have produced several teaser videos, which can be found at http://www.finallyonthemac.com/ .
The latest promo (as of Aug. 22), can be seen below: