Songdrops Music Announces the Release of Bryant Oden's Second Album – Songdrops 2: Bedtime Songs
BOULDER, Colo. (MuseWire) – Songdrops Music (www.Songdrops.com) announces the release of children's music artist Bryant Oden's second album, "Songdrops 2: Bedtime Songs" to be released December 1st. The album is comprised of soothing, relaxing children's songs including "Love Is" and "Just as You Are." Oden's first CD, "Songdrops: 30 Songs for Kids," was released November 1st, and features the viral sensation "The Duck Song," and the popular "I Got a Pea."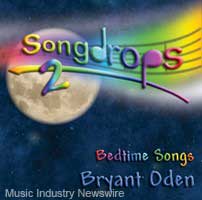 Oden is best known for his funny songs, which have received millions of video views on Youtube in recent months. "The Duck Song" in particular has become a viral phenomenon, with over 5 million views of videos of the song on YouTube. A few YouTube viewer comments: "This is the song everyone has been singing at my school!" "Kids sing this down the hallways between classes." "This is THE big thing at our school right now." With Oden's reputation growing as one of the funniest and freshest new voices in the youth music scene, why did he decide to release an album of lullabies and bedtime songs?
"There's no doubt the funny songs get a bigger response," Oden said. "But I really enjoy creating both the funny songs and the softer ones. Writing the fun ones is usually like a challenging mental puzzle. The soothing, relaxing songs usually just rise up from my heart on their own, sometimes almost finished on arrival. These songs are more meaningful to me, so it's important to me to share them too. And once in a while I get a comment from a kid or parent how much one of these songs meant to them, and that makes all the time and effort in recording them worth it. One of the songs was used at a funeral recently, which was really humbling. And just the other day I got a comment from an expecting mother who said she puts the headphones on her belly for her baby to listen."
"Songdrops 2: Bedtime Songs" features the beautiful piano ballad "Love Is," the heartful "Sing You a Rainbow" and the affirming "Just as You Are," all three of which have children joining in. Among the other songs on the CD, "Always" and "The Light in You" stand out as raw, honest, moving, positive songs, thanks in part to the contributions of talented vocalist Danae Shante, of www.SacredMusicalArts.com .
Oden, who owns the popular humor website www.InnocentEnglish.com, has spent the last year writing and recording songs. "I thought last fall I would just record maybe 11-12 songs, but more ideas kept coming to me, and I kept on recording. Even though the first Songdrops CD has 30 songs, there were more we couldn't fit in, including a few bedtime songs that are on this CD."
Oden is making available even more songs, and alternate versions of songs, on the digital only album "Songdrops 3: Extras" which has 25 new tracks. It will be available on CDbaby.com on December 15th and on iTunes soon after.