Shipping Begins on Moog Taurus 3 Bass Pedals – More Moog News for 2010
According to the folks at Moog, their new Taurus 3 Bass Pedals have begun making their way to musicians worldwide. A new OS update for the Minimoog Voyager is available, and the new Moog Guitar adds MIDI.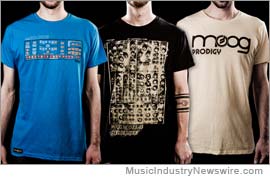 The company posted the following in their latest customer newsletter: "Taurus 3 customers: the fact that we are shipping does not necessarily mean that we are currently shipping YOUR order. We have a 4-5 month backlog and each one is hand-built here in the factory. It will take some time to build all 1,000 pieces. Please be patient with us. For the most part, orders will be shipped on a first come, first served basis."
In other Moog news, the Moog Guitar now comes with MIDI. The spirit of sonic exploration kindled by The Moog Guitar has led many intrepid guitarists to imagine the possibilities of combining its ground-breaking innovations with MIDI guitar technology. At Winter NAMM 2010, imagination became reality: introducing The Moog Guitar Model E1-M.
Also, Operating System Version 3.5 for the Minimoog Voyager Analog synthesizer adds a number of new features, including quick save, category browse, and legato glide.
After you update your Voyager to OS 3.5, there is a new bank of the freshest Voyager presets on the planet available as a free download. Programmed by Mile Davis keyboardist Adam Holzman, Danish producer Daniel Muschinsky, Moog engineer Steve Dunnington and Moog associate Ben Hovey, these sounds span the spectrum from classic to cutting edge.