Romancing the Macabre: Curse in the Woods Spearhead Original Sound with a Freshly Cut Debut Album
MONTREAL, Quebec (MuseWire) – At the crossroads between pop, folk and horror music, the Montreal-based group Curse in the Woods bring you their bold first album, "The Deals They Made." Composed of nine musicians and a video projectionist, the group pioneered their way passed the ordinary to draw forth a theatrical and melodic reflection of the darkest corners of imagination.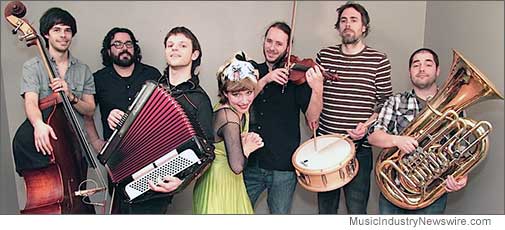 "Most people make music that can already be categorized, but Curse in the Woods built their own scene from scratch" says fellow musician Vik Daigle from Montreal stoner band Dopethrone. "We like to listen to lots of different kinds of music, and we put those influences together in our own way," says Sam Harvey, who composes all the music for what has become a full multimedia and theatrical music project.
Their first full length album "The Deals They Made" was recorded at Montreal's own Studio Victor and will be commercially released on June 15, 2012. The eleven tracks of this opus contain a diverse set of narratives aiming to depict the human reaction to the trials of attachment, loss and transformation that we each inevitably face.
"In poetry you can transmute ugliness into beauty, pain into grace, and that's the principle I apply to the songs I write," says singer and lyricist Jeannie Taylor about the upcoming LP.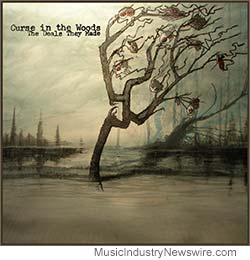 You can see them live at their release party alongside the fringe festival on Friday June 15th at O Patro Vys (356 Mont-Royal, corner St-Denis).
Curse in the Woods was born as the result of a chance meeting one January night between Jeannie Taylor and Sam Harvey at a Montreal metro station, where Sam was playing the accordion. Sam had just come back from a three-year tour of Europe where he busked in the streets of more than eight countries. Jeannie, a visual artist and member of the burlesque troop Oops Johnny!, had begun to perform her own creation, a theatrical burlesque character, which melded the macabre with sensual beauty. Curse in the Woods is the product of the encounter of these two artists and the mixing of their similar yet unique visions. Curse in the Woods' musical influences flow from the raw sounds of Delta blues and gypsy music, to the magnetic songs of Lhasa and Tom Waits, with a touch of the eerie melodies of horror film music.
Curse in the Woods is available for interviews and appearances.
You can download this press release, band photo and press kit from our website :
http://www.curseinthewoods.com
Press contact : Sam Harvey
Email : press@curseinthewoods.com, or Phone : 514-722-8152.
VIDEO: