Roman Carter, Tom Rothrock Project Relaunches Bong Load Record Label
"Never Slow Down" collaboration due out on indie label that launched Beck
LOS ANGELES, Calif. — Artist, producer, and film composer Tom Rothrock, legendary vocalist Roman Carter, and a host of studio session pros have completed a unique collaborative project titled: ROMAN CARTER "NEVER SLOW DOWN." A full length release is due out November 6th, 2007, on the recently re-launched independent Bong Load Custom Records label.
Roman Carter, part of the original R&B incendiary electric blues trio known as The Carter Brothers, is the featured vocalist and co-composer. Other very special guests include: vocalist Sweet Pea Atkinson, vocalist Johnny Irion, guitarist Smokey Hormel, drummer Joey Warnoker, drummer Cedric Burnside, MC Random and harmonica maestro Jimmy Wood, among others.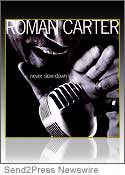 A high octane duet featuring Carter and Irion will be the lead off single… "Just A Little Too Fast," with a Rolling Stones-meets-Wilson-Pickett intensity, debuts internationally on the syndicated BLUES DELUXE radio program September 2nd, airing on 103 stations mostly across the U.S. and Canada and also in New Zealand, Guam, Virgin Islands and Saudi Arabia. Roman Carter will be appearing live at the San Francisco Blues Festival on September 30th, 2007.
Tom Rothrock is a seminal music producer (James Blunt, R.L. Burnside, Beck, Elliott Smith, Badly Drawn Boy, Richard Thompson, The Yonder Mountain String Band and new artist Marie Digby) and also film soundtrack composer (Collateral, About A Boy). His collaboration with Roman Carter follows the release of his own instrumental CD "RESONATOR," on the re-activated Bong Load imprint.
Bong Load Custom Records first debuted in Los Angeles in 1991 and is known for having helped launch the careers of Beck and several other influential artists.
More information:
– http://www.myspace.com/mrrothrock
– http://www.myspace.com/romancarter
[tags]indie record label, Bong Load Custom Records, Never Slow Down, vocalist Roman Carter, music producer Tom Rothrock[/tags]