Roland Releases PK-6 New Dynamic MIDI Pedal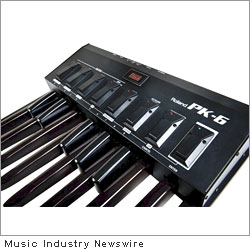 LOS ANGELES, Calif. (MuseWire) – Roland is pleased to announce the new PK-6 Dynamic Pedalboard, an impressive MIDI controller that puts the excitement and versatility of live bass performance with full MIDI control within reach of any musician.
The new PK-6 MIDI Pedal controller is the successor to the popular PK-5A, and preserves many of the same characteristics of its predecessor, while adding new features and functions that make its use more comfortable and intuitive for musicians. Virtually any MIDI function can be controlled in live performance using their feet, leaving hands free to play their favorite instrument, and the easily readable LED display enhances the player interface.
The PK-6 includes new features like MIDI merge, PK out, and an external pedal jack, along with proven PK-5A features like one-foot operation of four separate performance modes, 13-velocity sensitive pedal keys, and the ability to transpose over a nine-octave tonal range.
Connect the PK-6 to any MIDI-compatible keyboard or sound module, and instantly add bass lines, harmonies, drum/percussion sounds, and even sound effects to your performances.
The PK-6 will be available in April 2012.
VIDEO: