Roland Announces Remix of the V-Synth with the GT Model
This month, at the Winter NAMM, Roland announced its newest high-end keyboard offering which takes its well conceived, but not widely embraced, V-Synth platform and blows it up to a new level, with a far more powerful iteration of their Elastic Audio Synthesis Engine. It's called the V-Synth GT, and it's my next keyboard.
What made the first V-Synth interesting, although it wasn't that long ago in keyboard history to be released, was the concept of using the time stretching and morphing technologies from Roland's vocal processing tools (VariPhrase) and applying that to Roland's well-respected sample and waveform technologies which can be traced back to the days of their linear-algorithmic systems (ala U-220, etc.).
Folks who wanted Roland sounds, but were not enticed by the Fantom series, or the entry level SH series rebirh, and who wanted to see a true 21st century technology offering from Roland in the synth department, may finally have their wishes fulfilled. The original V-Synth was interesting enough, but this new model combines two V-Synth "engines" to allow for unprecedented combinations of classic Roland sound technologies.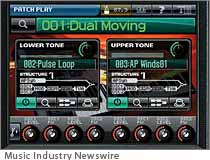 Rather than simply being yet another sample based keyboard along the lines of a Triton or even the Fantom, the V-Synth takes sampled elements, just like a ROMpler or virtual analog using waveform samples, to build analog sounding instruments but brings in a taste of physical modeling thinking to recreate both the "chaos" found in real-world instruments but also their intro/outro behavior when things like a string is plucked; so the V-Synth can emulate the behaviors of certain acoustic "tones" to make them more playable and lifelike versus simply "filtered playback" of a ROM-based tone.
So, this adds yet more sound design opportunities in addition to what the original V-Synth could do. The original version was certainly capable, and included standard PCM waves, like those found in a digital piano or horn section, but the V-Synth also included analog modeling waveforms, similar to those used in Roland's JP-8000 and the Access Virus, then threw in their VariPhrase waveforms, also known as "elastic audio." Finally, these oscillator types, all of which are editable in real time, could be combined to create new sounds, in ways that no other hardware or software based synth could.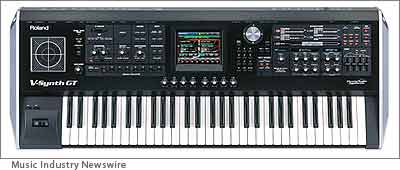 This means the V-Synth GT is now a top contender for anybody looking to make noise in new and interesting ways while keeping the ability to play Piano, or B-3 emulations, or virtual-analog tones of Roland synths, or wild voice-stretching samples and morphs, or wicked combinations of all of these. Truly something "new" from Roland now that two (even Roland has jumped on the "dual core" descriptor) engines are included which can be molded and melded in ways that are far more complex than simply chaining two V-Synth XT models together.
This may be the best implementation of everything Roland has come up with from the L.A. synthesis days through to the VariPhrase era, all in one box, with two helpings for those hungry for something new.
Frankly, this is exactly what I was looking for from Roland (aside from a true analog rebirth of the Jupiter-8 such as a Jupiter 8000), and it's my next keyboard buy!
Street price should be under $2,900 (US$) and shipments are expected to start in May 2007.
The rundown on the new V-Synth GT features (couresy Roland):
Roland's original V-Synth set a new standard in expressive synthesis and sound design. It won awards and acclaim around the world, as it forever changed the way sounds were created and performed. But just when you thought V-Synth technology had reached its peak, Roland raised the bar even higher with the new flagship V-Synth GT! This unique instrument injects the V-Synth's famous Elastic Audio Synthesis engine with revolutionary Articulative Phrase Synthesis technology. Its expression and realism is unprecedented, as is its ability to make never-before-heard sounds.
* Multiple forms of advanced synthesis under the control of a friendly, icon-driven interface

* New AP (Articulative Phrase) SYNTHESIS technology models the performance behavior and nuance of musical instruments

* Includes Roland's proprietary Elastic Audio Synthesis engine plus Vocal Designer, playable simultaneously

* Sound Shaper II offers incredibly easy and efficient user programming

* Futuristic, high-quality industrial design

* Color touch-screen display with wide viewing angle.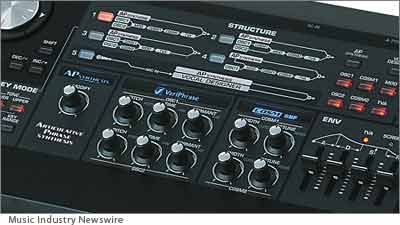 Multi-core Synthesis
By integrating a new dual core V-Synth engine, the V-Synth GT can combine Elastic Audio Synthesis, Vocal Designer technology, and AP-SYNTHESIS in real time. Roland's proprietary VariPhrase technology is also integrated into the V-Synth GT. Together with its analog-modeling engine, External Audio input, and digital sampling architecture, the V-Synth GT provides an incredibly wide and colorful foundation on which to capture, manipulate and create sounds.
AP-SYNTHESIS
The V-Synth GT is the first synthesizer in the world equipped with AP (Articulative Phrase) SYNTHESIS. This revolutionary form of modeling recreates the ever-changing behavior, nuance and sound of an instrument as it's being played. The results are stunningly expressive and realistic, and can be applied to acoustic instrument simulation as well as new, never-before-heard sounds.
Speed Programming
Serious sound designers will love the complexity and editing depth of the V-Synth GT, but there are many instances where musicians need fresh sounds fast — and that's the beauty of Sound Shaper II. Based on the original Sound Shaper, this enhanced mode lets you choose a sound type, then it brings the most relevant parameters directly to the surface. You'll be creating new sounds in seconds!
Futuristic Design
The V-Synth GT is a top-of-the-line instrument. No corners were cut in creating its futuristic yet friendly layout and design. New front panel features include a color touch-screen with eight universal control knobs, and the addition of dedicated buttons and sliders to make access faster and easier. From top to bottom, front to back, this is an instrument that says "first class."
Download a PDF brochure of the new V-Synth (from Roland's website):
http://rolandus.com/uploads/CMS/Downloads/1974/v_synth_gt_brochure.pdf
The Laundry List
* Keyboard 61 keys (with velocity and channel aftertouch), Dual Elastic Audio Synthesis Core with AP-Synthesis and Vocal Designer * Sound Generator Configuration Oscillator (envelope x 4 + LFO x 1), Modulator x 1 per Tone, COSM (envelope x 2 + LFO x 1) x 2, TVA (envelope x 1 + LFO x 1) x 1, Tone FX x 1, AP-SYNTHESIS (Articulative Phrase Synthesis) x 1*, Vocal Designer x 1*, *Shared by both Upper and Lower Tone * Methods by Which Oscillators Produce Sound PCM/Variphrase (Preset waveforms + Sampling waveforms), Analog Modeling (14 waves: SAW, SQUARE, TRIANGLE, SINE, RAMP, JUNO, HQSAW, HQ-SQUARE, NOISE, LA-SAW, LA-SQUARE, SUPER-SAW, FEEDBACK-OSC, X-MOD-OSC), External Input * Modulator 4 Modulation types (RING, FM, ENV-RING, OSC-SYNC), MIX and STEREO-MIX * COSM 16 types (OD/DS, W-SHAPE, AMP, SPEAKER, RESONATOR, SBF1, SBF2, COMB, DUAL, TVF, DYN-TVF, COMP, LIMITER, F-SHIFT, LO-FI, TB-FILTER) * Zones (Splits for Rhythm/Filter Bank) 16 Zones per Tone * Maximum Polyphony TBA (Varies depending on the load placed on the sound generator.) * Internal Memory Project: 1, Patches: 256, Tones: 512, Waves: TBA, Wave memory (RAM): TBA (64 M bytes) * External Storage Device USB Flash Memory * Effects Tone FX: 2 (41 types Multi-effects), Chorus: 1 (8 types)*, Reverb: 1 (10 types)*, *Shared in the both of Upper and Lower Tone * System EQ 4 bands * Sampling Frequency Internal: 44.1 kHz, Digital Audio IN/OUT: 96, 48, 44.1 kHz * Signal Processing Internal Processing 24 bits (fixed point) 24 bits 24 bits * Nominal Output Level MAIN OUT: +4 dBu, DIRECT OUT: +4 dBu * Nominal Input Level INPUT (LINE): -20 dBu, INPUT (MIC): -46 dBu * Arpeggiator * Patterns: User programmable (support use of control change messages), Motifs: 8 types, Tempo: 20 to 250 BPM *Shared in the both of Upper and Lower Tone * Multi Step Modulator Tracks: 4, Steps: 16, Tempo: 20 to 250 BPM * Display Graphic 320 x 240 dot backlit TFT LCD with touch screen * Controllers Pitch Bend / Modulation Lever, Time Trip Pad, D Beam Controller (Twin beam), Assignable Control Knobs (C1, C2) * Connectors Headphones Jack, Main Output Jacks (L/MONO, R) (1/4 inch phone type), Direct Output Jacks (L, R) (1/4 inch phone type), Input Jacks (L, R) (1/4 inch phone type), Hold Pedal Jack, Control Pedal Jacks (1, 2) (assignable), MIDI Connectors (IN, OUT, THRU), USB Function Connector (supports USB 2.0 file transfer, USB 1.1 USB-MIDI and Audio Streaming), USB Host Connector (supports USB 2.0 Flash Memory), Digital Audio Interface (24-bit, IEC60958): COAXIAL (IN, OUT), OPTICAL (IN, OUT), AC Inlet * Power Supply AC 115 V, AC 117 V, AC 220 V, AC 230 V, AC 240 V (50/60 Hz) * Power Consumption TBA * Dimensions 1066 (W) x 411 (D) x 125 (H) mm/ 42 (W) x 16-3/16 (D) x 4-15/16 (H) inches * Weight 14.1 kg / 31 lbs 2 oz * Accessories Owner's Manual, CD-ROM (USB Driver for Windows/MacOS), USB Memory Protector, Power Cord * Options Keyboard Stand: KS-12, Pedal Switch: DP, Foot Switch: BOSS FS-5U, Expression Pedal: EV-5, BOSS FV-300L. (Editor's Note: some informtion is preliminary as of Jan. 15, 2007.)
More Information
For more info on all Roland keyboards, sytns and workstations, simply visit: http://rolandus.com/
[tags]Roland Vsynth GT, keyboards from Roland, MIDI workstation, Roland gear news, Christopher Simmons, Winter NAMM 2007[/tags]
Get involved with MuseWire! If you have a song created with the new Roland V-Synth GT, send us a link to your site and the song, which will be included on the V-Synth Resources page in our Synth Resources section.