Roland Announces AT-900 'Platinum Edition' Organ – top of the MUSIC ATELIER product line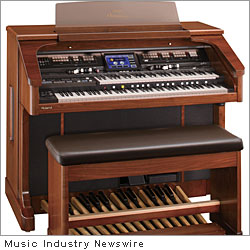 LOS ANGELES, Calif. (MuseWire) – Roland, the premier manufacturer of quality organs for home, church, and stage, is pleased to announce the most recent addition to their MUSIC ATELIER family. The AT-900 'Platinum Edition' boasts a newly-designed cabinet, expanded voice palette and features including SuperNATURAL sounds, improved user interface, and Roland's latest arranger technology – positioning the organ as the new pinnacle of the MUSIC ATELIER product line.
The AT-900 "Platinum Edition" (AT-900P) is housed in a beautiful hand-crafted cabinet with a rich, lustrous walnut finish. The new contoured shape and horseshoe design cabinet with a wider sliding music stand make the instrument as beautiful visually as it is musically.
Fundamental organ voices are further refined with the latest music expression technology and seamlessly fuse with full, rich classic organ tones. Derived from the VK series combo organs, Roland's acclaimed Virtual Tone Wheel organ sound is exclusive to the AT-900P and offers authentic vintage organ tones and rotary characteristics, while additional SuperNATURAL sounds provide unsurpassed realism in all music genres.
The AT-900P is home to Roland's newest arranger technology, with new music styles, enhanced main rhythm grooves, V-Drums, and superior orchestral voicing.
Authentic pipe organ voices are offered along with associated quick registration settings for classical music applications, and a 350 hymn tune library further expands the versatility of the "Platinum Edition."
Baroque or worship music is authentic and inspiring, thanks to new pipe organ voices, and auto accompaniment is simplified with easy to queue voices and rhythm styles within the AT-900P's renewed Music Assistant functions. The new BMP file export function also allows for printing of arrangement scores.
Distributed exclusively by Roland, the AT-900P will be available in April 2012. For more information, visit www.RolandConnect.com .
VIDEO: