Rockwilder Pays $100K to Indie Music Producers, Launches Web Site to Continue Music Marketing Success
NEW YORK, N.Y. — After the overwhelming success of Rocbeats.com and Rocbattle.com, Grammy award-winning producer, Rockwilder, is ready to take his online success to the next level; he has launched a third site that is currently in beta phase – RocMP3.com.
Rocbeats (www.Rocbeats.com) was the first in a trio of indie music sites. It serves as a full-featured access point for artists to receive advice and top-quality production while providing them with a chance to win money in exchange for talent. When it first launched, there was some controversy and it was met with adversity by music producers who said they were trying to monopolize the industry.
As a result, Rocbattle (www.Rocbattle.com) was launched to nurture the growth and development of up-and-coming producers. The site brings exposure to selling beats on the Internet and, to date, has paid out over $100,000 to indie Rocbattle.com producers for their beat sales.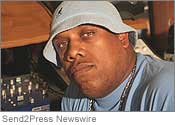 Rockwilder is now gearing up for RocMP3's official launch and is in the process of partnering with musical artists, indie labels, and entrepreneurs to form the largest independent movement in the industry.
Through this new online business, artists and labels will be able to sell as many MP3s as they want and keep 100-percent of the profit.
"I've added a six-figure income plan for promoters and entrepreneurs who want to be paid to promote the artists and labels on RocMP3.com," Rockwilder said. "I'm so glad I could turn the initial adversity into an opportunity to help payout to the independent market."
Ultimately, Rockwilder's mission for RocMP3.com is for it to be the largest independent entertainment affiliate program and to pay out 100 times the money that RocBattle.com has paid out over this last year.
Rockwilder has been a key figure in the music industry for over 15 years. He is one of Hip Hop and R&B's top producers and is responsible for over 60,000,000 plus record sales and Billboard top-charting songs.
He has crafted hit records for artists such as Jay-Z's "Do it Again" (1999), 50 cent "Like my style" (2003), and many others. He has produced several tracks on Janet Jackson's "All for You" album and Destiny's Child, the "Rockwilder Remix" of "Bootylicious." Being the co-producer with Missy Elliot for "Lady Marmalade" in the film "Moulin Rouge" won him the Grammy(R).
All trademarks acknowledged.
[tags]Rockwilder Remix, Grammy winning producer Rockwilder, indie music producers, Rocbattle music marketing, RocMP3 affiliate program for music sites[/tags]