RED Microphones Widens Distribution – VintageMicrophone.com acquired by SEMA Capitol Group
LOS ANGELES, Calif. — RED Microphones announced today that they will begin to widen distribution of their products, making them available to brick and mortar retailers as well as other online music and pro audio dealers. This change in distribution strategy is a result of the acquisition of VintageMicrophone.com by California-based equity firm SEMA Capital Group, Inc.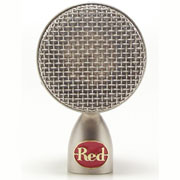 Prior to its acquisition, VintageMicrophone.com had been the exclusive reseller of Red Microphone products, specializing in vintage microphone and related pro audio products, including microphones, hard-to-find replacement capsules and shockmounts, cables, custom storage solutions and more. VintageMicrophone.com will now become a wholly-owned subsidiary of SEMA Capital Group.
SEMA plans to expand the range of products and services offered at VintageMicrophone.com to evolve the specialized e-tailer into a high quality, full service online recording products retailer. VintageMicrophone.com will also remain a Red Microphone authorized retailer.
Ariel Soudak, Red Microphone's President, believes that this is a win-win situation. "We are excited about this new relationship," stated Soudak. "This acquisition provides both VintageMicrophone.com and Red Microphones the perfect opportunity to leverage our respective strengths and significantly grow our businesses."
For product information, please visit:
http://www.redmic.com
http://www.vintagemicrophone.com.
NEWS SOURCE: RED Microphones
[tags]RED Microphones, vintage microphones, SEMA Capital Group, mtech marketing communications[/tags]