Rap Group 'Money First' Encourages Tri-State Residents Feeling Economic Pinch
NEW YORK, N.Y. (MuseWire) – Underground Music Award winning indie band MONEY FIRST announces the release of "Lamborghini Lifestyle" as an online promotional single this weekend to encourage tri-state hip-hop fans and families feeling the current economic pinch.
"One of my goals in life is to own my own personal custom made Lamborghini, but when you come from where we come from, it's something people grow up thinking they'll never have," says Trenton, New Jersey native and MONEY FIRST group leader Ronald "Boom" Blakely of the song's title. "Not only do people think they won't own one, but many believe they'll never even see one, especially with the economy down."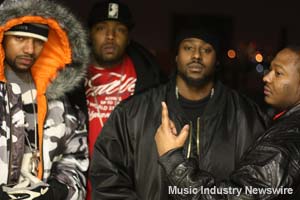 According to a report from the US Bureau of Labor Statistics (BLS), 224,220 jobs were eliminated in the New York City-Northern New Jersey-Long Island area in January 2010. Meanwhile, according to police department data, New York City's homicide rate rose more than 20 percent from the same period last year with the first 11 weeks of 2010 seeing 103 murders in the city, compared to 86 in 2009.
"When you lose the belief that you can do something great, it's easy to get involved in negative activities," says Boom. "The goal of this song is to get young people to set lofty goals and devote their time to achieving what they want in life. We encourage our young fans to believe in themselves."
"Lamborghini Lifestyle," which will be available for free download at the band's Web site and indie music promoter Block Starz Music (www.blockstarzmusic.com) on Good Friday, was crafted by J. Glaze of Manhattan-based T-Rex Productions, who most recently co-produced "Roger That" from the top ten We Are Young Money album featuring rap star Lil' Wayne's Young Money Entertainment roster.
"Most people think of a Lamborghini as an expensive sports car. I think of it as a mark of success," says Boom, who's pursuing a degree in Business Administration. "Who doesn't want to be successful? I know I do."
About MONEY FIRST:
Formed by high school friends Boom Blake, iLL Kayn, Tranzatick, and JP in Trenton, New Jersey, MONEY FIRST (www.moneyfirstonline.com) won "Best Rap Group" at the 2009 Underground Music Awards held at world famous BB Kings Concert Hall in Times Square and has appeared on the Rutgers Radio show MNMixture (88.7 FM) and Next UP Radio (91.9 FM).
The group released its debut mixtape, Blog Goon, in January and also appears on the album East Coast Block Starz, currently available at all major online retailers.
*(Photo Caption from left: JP, iLL Kayn, Tranzatick, and Boom Blake.)