Protectomatic Music and Entertainment is Proud to Introduce Jeremiah, a Gentleman of Soul, and His New Recording 'Love Notes'
SEATTLE, Wash. (MuseWire) — Protectomatic Music and Entertainment (PME) proudly announces the release of Jeremiah's new album, "Love Notes," on Tuesday, June 19th, 2007. The first single off of Jeremiah's recording, entitled, "Did I tell you," is also being released. In conjunction with the new single and album, PME and Jeremiah will be launching a new website at www.jsongz.com with the recording.
Jeremiah's "Love Notes" is an R&B extended play album consisting of true instruments blended with only a few samples and electronic additions. Jeremiah sang all the lead vocals in one session with no effects or enhancers on his voice.
With wonderful vocal arrangements featuring Cory Thompson, the support is full, smooth and warm. Jeremiah brings in hints of artists such as John Legend, Stevie Wonder and Marvin Gaye while adding his own touch to each song. Love Notes is an album that shakes with emotion, stirring together an inspired blend of soul, R&B, gospel, and dance.
Twenty-five percent of all profits from this recording, including downloads, are going to support music and arts education at The Orca School in Seattle, Washington, a cause dear to Jeremiah on a personal level.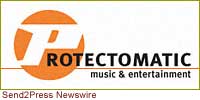 "Love Notes" was produced by Loren Weisman and engineered by Scott Ross. This is a Freedom Solutions Recording Plan (FSRP) album, meaning it was achieved using the organizational recording methods developed by Loren Weisman. The goal of FSRP recordings is to help artists save money by budgeting and planning the process from start to finish. This plan also keeps the artist in control of their music, and involves giving a percentage of profits to a charity the artist believes in. Love Notes is being released with two other FSRP recordings from Seattle jazz artists Das Vibenbass, and Houston rock group Stretching Madness. More information available at http://www.protectomatic.com.
CD Summary:
Label: Connor Project LLC (PME)
Band/Group: Jeremiah
CD Title: Love Notes
UPC: 837101357364 (Audio CD)
SRP: $8.00
Listen to the new Jeremiah single, "Did I tell you," and the rest of the new album Love Notes by visiting Jeremiah's new website, http://www.jsongz.com, or his MySpace page, http://www.myspace.com/jagossongz.
[tags]Protectomatic Music and Entertainment, Jeremiah Love Notes, Cory Thompson, Gentleman of Soul, Freedom Solutions Recording Plan, FSRP album, producer Loren Weisman, engineer Scott Ross[/tags]